Justin Masterson pitched six effective innings, Kosuke Fukudome had a tiebreaking RBI triple and the Cleveland Indians inched closer to the top of the AL Central with a 4-2 victory over the Chicago White Sox on Thursday night.
Matt LaPorta hit a two-run homer for Cleveland, which pulled within 1 1-2 games of idle Detroit for the division lead. The Tribe opens a three-game series at Detroit on Friday.
Paul Konerko homered for the White Sox, which lost starter Phil Humber on a scary play in the second inning. Konerko, Adam Dunn and Omar Vizquel each had two hits, and Tyler Flowers singled in a run.
Masterson (10-7) allowed two runs and seven hits, struck out two and walked three. The 6-foot-6 right-hander improved to 2-2 with a 1.61 ERA in four starts against the White Sox this season.
Rafael Perez and Joe Smith combined to finish the seventh, Vinnie Pestano got out of a jam in the eighth and Chris Perez finished for his 27th save in 30 chances.
Humber was struck in the face by Fukudome's comebacker with one out in the second inning. He fell to the ground as the ball bounded back to catcher Flowers.
Humber stood up immediately after the play ended and appeared to be alert as the club's medical staff checked on him, but was removed after a short delay.
The White Sox announced Humber was struck above the right eye and was removed as a precautionary measure. He was alert and responsive and will evaluated again on Friday.
The Indians won the last two games of their three-game series against the White Sox after losing seven of their first eight games against Chicago this season.
Fukudome played a key role in Cleveland's decisive rally in the sixth. After Shin-Soo Choo led off with an infield single, Fukudome tripled into the right-field corner against Will Ohman (0-3) to give the Indians a 3-2 lead.
Fukudome, acquired in a July trade with the crosstown Cubs, came home later in the inning when Asdrubal Cabrera drew a two-out walk against Jason Frasor on a 3-2 pitch with the bases loaded.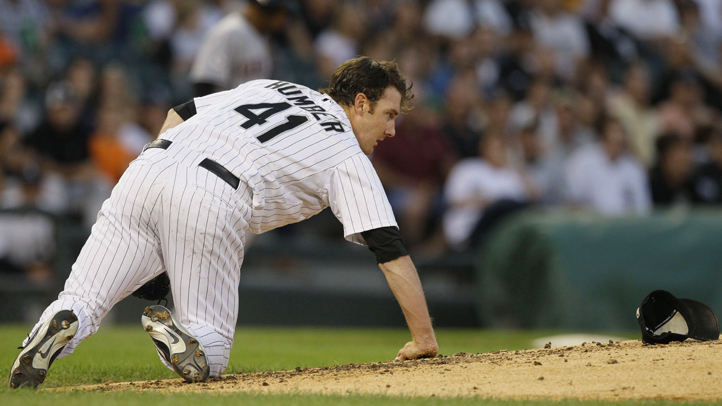 Chicago White Sox starter Philip Humber reacts after being hit by a ball hit by the Cleveland Indians' Kosuke Fukudome. (Nam Y. Huh/AP)
Published at 10:55 PM CDT on Aug 18, 2011