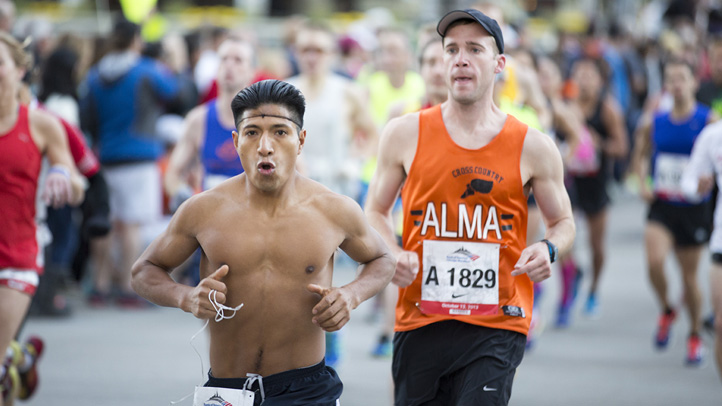 The Chicago Marathon is taking over Chicago, and city officials couldn't be happier to welcome thousands of racers and spectators to the Windy City.
The 2014 Bank of America Chicago Marathon officially launches Sunday in Grant Park at 7:00 a.m., but there are festivities planned up until the race takes off.
"You're going to see people from all over show something in common," said Mayor Rahm Emanuel at Thursday's kick-off press conference for the Bank of America Chicago Marathon. The mayor, who has made tourism a focus for the city of Chicago, said the event will unite citizens and visitors alike.
Bank of America Illinois President Tim Maloney and Executive Race Director Carey Pinkowski spoke, as well, during the afternoon press conference. Maloney also spoke of community and how the marathon is helping the city by the support that the 190 charities will be getting. Since 2002, $115 million has been raised and in 2013 $15 million was raised for the charities.
"Sunday's going to be a terrific day, not just for the thousands participants in the race, but for the entire city," said Maloney.
He said that this year's race reflects the theme of unity because Chicagoans and individuals from literally all over the world will unite to celebrate their passion and appreciation.
"Life is better when we're connected," said Maloney, reinforcing the theme of this year's race.
The race will weave through 29 Chicago neighborhoods over the 26 mile course.
"The marathon unites the entire city of Chicago but also connects us to the rest of the world."
Maloney said the marathon has a positive impact on the economy and the tourism industry of Chicago.
Bank of America is helping support and improve tourism in Chicago by allowing the participants of the race and one guest free admission to the Art Institute's special exhibit "Magritte: The Mystery of the Ordinary" between October 9 and 13.
Their aim is help provide financial support to the city by encouraging tourist to stay longer.