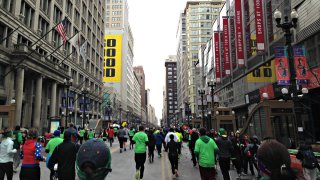 You may not be getting a pot o' gold at the Shamrock Shuffle finish line but runners will certainly be getting a shiny reward.
The Bank of America Shamrock Shuffle on Monday revealed this year's race medal that will be handed out to finishers.
The green medal features "Bank of America Shamrock Shuffle" along with a shamrock in the center, surrounded by the date of this year's race and "Turn the city green" on band.
The 2020 Shamrock Shuffle steps off on March 22 and is often considered the unofficial kickoff to outdoor running season in the city.
The race is now in its 41st year.