-As expected, Hawks assistant coach Mike Haviland is interviewing today with former Hawks assistant GM Kevin Cheveldayoff (that's a lot of assistants) for the head coaching job in Winnipeg, according to the Winnipeg Free Press. We had suspected this would happen, and I fully expect Haviland to get the job. He's deserved a head coaching gig for awhile. What could work against him is no NHL head coaching experience, and if he's competing with former Oilers coach Craig MacTavish (the last player to not wear a helmet and the only one to have a baudy term named after him) that could come back to haunt him. But with two former Hawks stars there in Andrew Ladd and Dustin Byfuglien, a GM from the Hawks organization, and another assistant in John Torchetti entrenched, I would be a bit surprised if he doesn't get the gig. And that would be a loss for the Hawks, as Havvy is loved by players, the defensemen that he's helped run for years have all improved at some point, and whatever special teams unit he's running has hummed. To boot, when Coach Quenneville got his first chance to hire his own assistant, it was Mike Kitchen who hasn't wowed anyone yet. Stay tuned.
-So much for that plan. It was reported today by the New York Post that Chris Drury cannot be bought out by the New York Rangers. This is due to a "degenerative" knee condition that Drury has. This defines him as injured, and you cannot buy out an injured player. While Drury was an attractive option at a bargain basement price, he is not one via trade at his inflated $7 million salary. The Hawks will have to find someone else to upgrade from Ryan Johnson at fourth line center. But I swear it was a good idea in theory. Honest I do.
-Another name to watch out for is Carolina's Erik Cole. Apparently, talks between the two sided have come to a halt and the Canes are shopping his rights before he hits the market. While incredibly injury-prone, Cole is the unleashed-bowling ball of a scoring winger that the Hawks could use. He hits everything, creates space for others, and would look dazzling on Toews's and Kane's other wing. But we'll get to this more in-depth as we inch closer to July 1.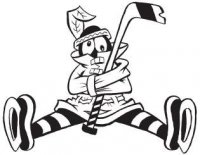 Sam Fels is the proprietor of The Committed Indian, an unofficial program for the Blackhawks. You may have seen him hocking the magazine outside the United Center at Gate 3. The program is also available for purchase online. Fels is a lifelong 'Hawks fan and he also writes for Second City Hockey .