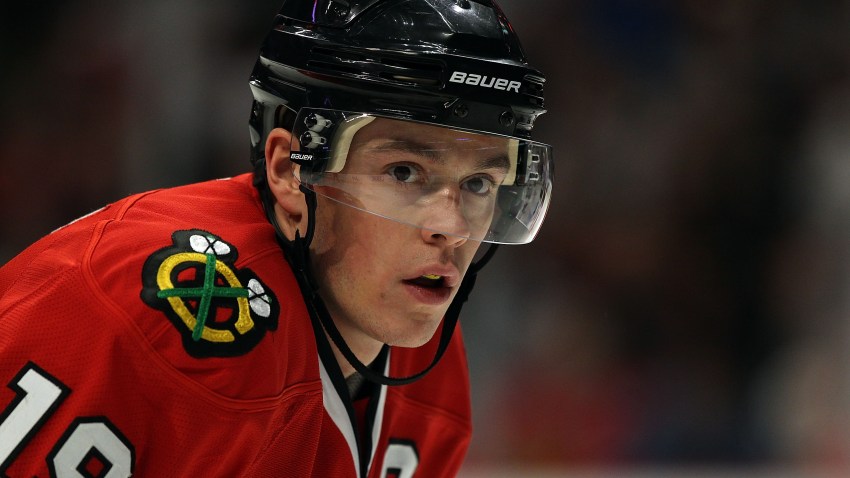 Tonight's visit from the Anaheim Ducks brings up a subject that I only I harp on, because I'm a deranged and lonely fellow. But I think it makes for a pretty interesting study, and says something about what the Hawks find important and how they're run.
In December of '09, the Hawks re-signed Jonathan Toews and Patrick Kane to five year deals worth just a tad north of $30 million, for an annual cap hit of $6.1 million. At the time, there was much hoopla that the Hawks had finally kept the cornerstone of their team, after years of watching star after star slam the door behind them on their way to places that actually took winning seriously. There was no problem with this, it certainly was a welcome sight.
But at the time, I said I thought the number was a little high. And I still do. And Ryan Getzlaf, the star center for the Ducks, was Exhibit A on why. This is under the premise that Toews is the most important player on the Hawks, and that Kane was never going to sign for more than him.
Getzlaf signed his current deal when he was 22, a year older than Tazer was. So age can't be used as an argument. When he signed his deal, Getzlaf had already been a major part of the Ducks' Cup win in 2007, whereas Toews had only been part of a team that got to the Conference Final. Getzlaf had also registered an 80-point season, and went on to put up a 90-point one, two things jonathan Toews has never done. But Getzlaf's contract has an annual hit of 5.3 millon, 800k less than Toews.
That isn't to say that Getzlaf is a better player than Toews. He's not. He doesn't kill penalties and isn't quite the defensive or faceoff guy that Toews is. But he might be a slightly better offensive player, and he dominates games on that end in the same fashion that Toews does.
Where this gets tricky is how much, other than money, the Hawks had invested in Kane and Toews. They were the face of a franshise that constantly paraded them out to every event and billboard they could. They told us things would be different, and Toews and Kane were the example of why. So signing them became beyond mandatory, and it's clear that the reps for them knew they had the Hawks over a barrel. The Ducks do not have that invested in Getzlaf, though he may be the center of the franchise they didn't need him to rescue their image in Orange County. That factors into it.
But it shouldn't have. If we're talking strictly hockey, Getzlaf and Toews are an excellent comparison. Imagine if both Johnny and Kaner's cap hit was 5.3. That's another $1.6 million in cap space the Hawks would have had. That's a huge difference, and at least would have kept Andrew Ladd in Chicago, the player they miss most from last year. It just seems that at the earliest possible moment, Stan Bowman handed the two kids exactly what they were asking for with almost no negotiation. Likely he was terrified of things dragging out and the panic that would ensue, and who knows what he was hearing from upstairs. But shrewd wouldn't be a word you'd use to describe it.
But here I am, shouting at the rain. What's done is done. And it kinda worked out, didn't it?