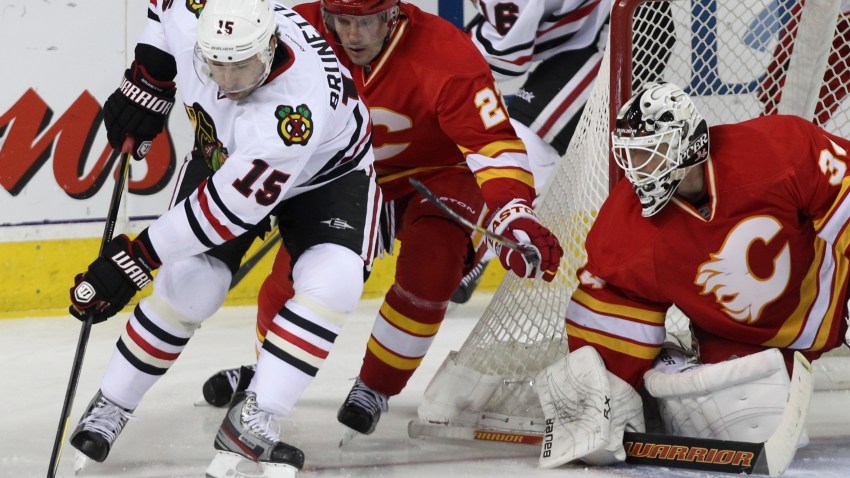 It's always a furious race in Chicago to declare a free agent acquistion either a complete waste of money and accuse him as being a major culprit of the city's budget crisis or to annoint him the greatest thing to happen to Chicago since the grid system was implemented after the fire. Such is the way of our polarized feelings about sports in this blog and Twitter age. Someone's either awful or great, no one's ever just asked to play a role.
It is with that that a lot of Hawks fans have turned on Andrew Brunette, who was signed this summer as a big forward to provide net presence and some hands around that area. There was over a decade of evidence on what Bruno was before he got here, but a lot of Hawks fans apparently don't watch games that don't involve the Red and Black. Bruno has always been ungodly slow, so why they expected any different is a mystery that I can't solve. And it's easy to identify someone who's slow, just as it's easy to identify someone with speed. People tend to confuse these easily sighted elements with how effective a player is. Someone who's slow is obviously bad, because they can see that.
But that's not how it works with Brunette. You don't put up a decade of usefulness and then are suddenly crap. But Bruno has been an odd fit, though he hasn't been helped by Joel Quenneville's use of him. Which is weird, because Brunette played for Q in Colorado, and this would have been a player Q probably pushed for in the summer.
When the season started, Brunette was playing with Jonathan Toews and Patrick Sharp. It was off-kilter because that left Toews to do the forechecking alone, as Sharp's not really that type of player and Brunette and his decrepit wheels just couldn't get there in time. There were times that Toews and Brunette really worked opponents below the goal line, but not enough. They also suffered defensively.
Since then, Brunette's been shifted to the fourth line, but that's not helping either. He's not an energy player and needs others to help him create offense. He won't get that with the light in the rear Marcus Kruger and stone-handed Jamal Mayers.
What Brunette needs is to be placed with Toews and Hossa. Both are excellent forecheckers, both are strong along the wall, and both will cover for Brunette defensively. And they'll both be there to finish of the little plays Brunette is so special at making around the net. It'll be harsh on Viktor Stalberg, who hasn't put a foot wrong on the top line, but he'll get the no small consolation prize of playing with Kane and Sharp.
Some players have to be put in the right situation in succeed. Hopefully Q will give Brunette that chance, because he can be a real weapon.