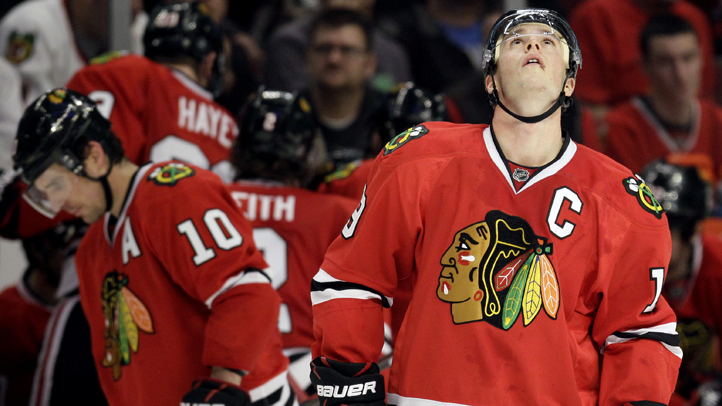 Although the All-Star break missed the halfway point by some margin, sloppily spliting the season into unequal parts like a poorly cut bar lime, it's at least a landmark.
The Hawks have 32 games to get their game into shape for when the real fun starts.
And make no mistake, unless the Hawks really figure out something revolutionary here, they're a playoff team.
While being sixth in the conference has scared a lot of people, it's kind of a misnomer. They're tied for the third best point total, and are 10 clear of the ninth-placed team with a game in hand. They can thank the science experiment of the Central Division for their misleading standing in the West. Put it this way, if the Hawks simply went 16-16 in these last 32, Colorado would have to go 21-10 to catch the Hawks. The Stars, in 10th, would have to do even better. And the Hawks won't go just 16-16, just as the Avs won't be throwing up any 21-10.
So the Hawks will spend the last 32 jockeying for the best position they can get, and the top of the Conference is the only way to draw a first-round matchup that won't send fans into therapy. Even the #7 seed that would await a #2 finish will be either L.A. or San Jose, and no one wants that.
The Hawks have gotten to this platform without a really dominant stretch of 10 games. There was a 9-1-0 stretch of course, but it didn't feel like they were rolling over teams. They were just winning. This is encouraging, because the Hawks are capable of a truly dominant stretch. What do they need to get there?
First and foremost, goaltending. It helps with every other fault you think the Hawks might have. The penalty kill will get better, the second pairing will get better because they won't be so afraid to make mistakes. The offense will get better because they won't have to pick the team up after bad goals. How that happens is pretty simple: Corey Crawford has to get better. There's not enough time now for the Hawks to cut bait with him and find another goalie elsewhere, and there's not really one to find. #50 is the only answer.
What else? Well, have to see what the trades are, but with what's available, it looks like Nick Leddy and Niklas Hjalmarsson are going to have to sort their games out. It's that simple. Leddy is going to have to feel comfortable under pressure in his own zone. While he'll always have trouble with physical forwards in his crease, he can use positioning and a quick stick to make up for that.
Another thing to keep an eye on is how hard the Hawk forwards work on the backcheck. For the most part, they've been pretty good at it. But the Hawks will spend the next 32 games trying to get their playoff game in mode. See if all forwards, when coming back, are getting between their men and the Hawks goal on the way back. It's called "getting above". Winning races, stopping odd-man rushes, this is vital to the defensive game.