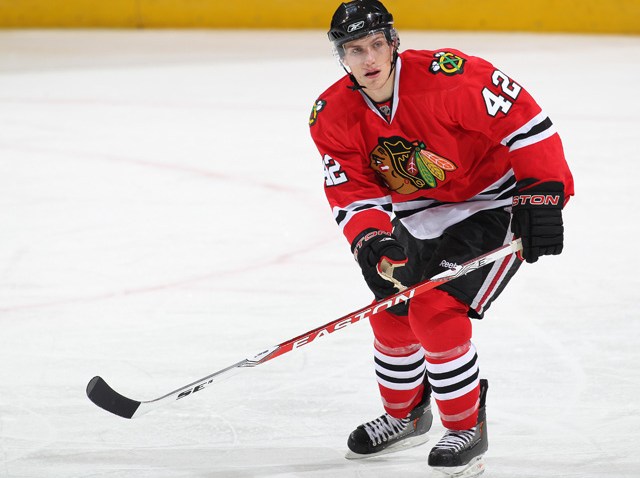 In a salary cap era, developing your own is tantamount, because if you can even afford to plug your holes outside your organization, you won't be allowed to because of the system in place. The next dynasty will be the team that can continually bring their own prospects through and have them flourish in the NHL. The Hawks first generation is well established, with Jonathan Toews, Patrick Kane, Duncan Keith, Brent Seabrook, and Dave Bolland having established themselves as genuine, front-line NHL players. Corey Crawford may indeed represent the first of the second wave. Niklas Hjalmarsson may still be a bridge between the two. Nick Leddy, Jeremy Morin, and Ben Smith all have chances to join Crawford in the second wave. But who else might? We've looked at some of the more prime candidates, but what others are out there.
In Rockford, Brian Connelly was the second leading scorer for the Icehogs, and he did it from the blue line. 52 points for a d-man is certainly not to be sneezed at, especially considering how woeful the Hogs were for most of the year. A +3 in more impressive than it looks considering the quality of goaltending the Hogs were getting. But Connelly would appear to be more of what the Hawks already have, a small-ish defenseman who's a good puck mover but isn't going to move any bodies. Certainly Leddy is ahead of him and probably Shawn Lalonde too.
Lalonde is a curious study. His numbers at junior are pretty silly. Two 50+ point seasons at Belleville. But the funny thing about that is that the Belleville Bulls play their home games on an Olympic-sized rink. It's 15 feet wider than any other. So Lalonde was able to use his plus skating skills to devastating effect for half his games. Not only did Lalonde have to adjust to the pro game but also playing all of his games on a North American rink. And the transition was not smooth. Lalonde has always been a question defensively, and for most of the year in the AHL that question was answered with the word "helpless". -16 tells its own tale, but those who watched a lot of him will tell you that Lalonde looked lost when he didn't have puck, struggling to maintain positioning and his gaps against attacking forwards. Lalonde is at least a year away, if Leddy hasn't already made him redundant.
Another d-man who is worth one eye is Ryan Stanton. Much like Dylan Olsen, he's a big boy with a heavy helping of nasty, racking up 76 penalty minutes this year. A stay-at-home guy, he could be a call-up if the big club is hit by injuries.
At forward, Rob Klinkhammer was the second leading scorer amongst forwards behind journeyman Jeff Taffe, with 17 goals and 29 assists. He even got one game with the Hawks. There were some who wanted Klinkhammer called up after Troy Brouwer's injury instead of Ben Smith, as Klinkhammer is a big body which the Hawks are short of. But Klinkhammer will turn 25 in August and you wonder how much more he has to develop. He's been at The Rock for three years, never cracking 20 goals. He probably can fill in on the 4th line when needed, but that's about it.
Jimmy Hayes comes from the Boston College system that Ben Smith squirmed out of. He had 21 goals there this year, and then finished the year with Rockford. He didn't score in seven games there. Hayes is 6-5, 210 pounds, and that's an attractive package with what appear to be scoring hands. As a three-year college player, he'll need less time to adjust to the pro game. Hayes could possibly be ready to help out in an injury crisis in when the calendar turns to 2012 if he is effective for the first half of the year in the "A".