Just going around some happenings this weekend:
-Obviously, the big news -- or what will be the big news -- is Patrick Sharp's injury. We won't get official word until tomorrow as the Hawks aren't practicing today and generally don't release this kind of stuff until they do. I'm no doctor, but the smart money is that Sharp is going to miss some time. If he only needs a week, that's fine because it's only the Panthers on Wednesday and the 'Hawks shouldn't need him to beat Florida at home. I usually try to wear rose-colored lenses about injuries, but there's no way to do that if Sharp is out an extended period of time. Sure, Viktor Stalberg or Troy Brouwer could fill in for a game or two on the top line, maybe even slightly longer. And if Brian Campbell and Dave Bolland come back soon that shores up the defense. Even Chris Campoli or Nick Leddy could fill in on Sharp's point for a little bit on the power play. But with a top heavy team like the the Hawks, losing a 35-goals scorer would have to be crippling. If the defense gets healthy and firing on all cylinders, the Hawks could even still win a round without Sharp. But when you start to dance with the big boys, you need someone who can score against top opposition, and Sharp is one of the few the Hawks have.
-Speaking of which, Coach Qunneville went back to the defensive pairings that made sense with Keith and Seabrook reunited. And the Hawks gave up 23 shots. Not unconnected. When Campbell returns, which it's sounding like will be Wednesday and is reunited with Niklas Hjalmarsson, the Hawks will have still one of the better Top 4's around, and perhaps the most mobile bottom pair around in Nick Leddy and Chris Campoli. That's enough to win you games.
-What happened with the competition this weekend? Well, two of our main rivals turned down the opportunity to do us a favor. The Canucks biffed it on Friday night to Phoenix's backup goalie, and the Flyers gave away a third period lead to the Stars but did pull it out in a shootout. But that's a point we could have done without the Stars getting. The Predators beat both the Wings and Sabres, and with seven of ten games in Tennessee to close out the season, you'd have to think they're a main rival. The Southern California teams clashed in downtown LA on Saturday night, with the Ducks winning in OT and then backing that up with another OT win over Calgary. So not only did the Ducks gain four points but they donated two more to other teams in the race, further complicating things. All in all, it didn't go as well as you'd hope.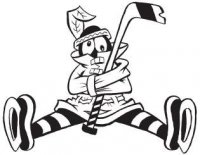 Sam Fels is the proprietor of The Committed Indian, an unofficial program for the Blackhawks. You may have seen him hocking the magazine outside the United Center at Gate 3. The program is also available for purchase online. Fels is a lifelong 'Hawks fan and he also writes for Second City Hockey .