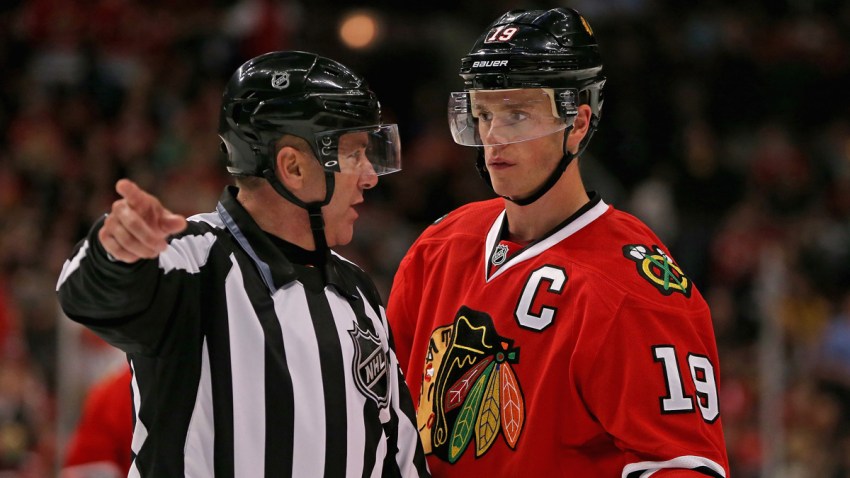 After a 5-3 loss to the Minnesota Wild on October 26th, the Chicago Blackhawks were looking like a team in trouble. They had just dropped a tough overtime loss to the Tampa Bay Lightning the game before, and head coach Joel Quenneville decided that the time would be right to bust out his patented line shuffler to spark the offense.
Beginning in that October 28th game against the Wild, the Hawks went on a scoring binge, racking up 22 goals in the ensuing five games. They have gone 4-0-1 in that span, and likely would have gone 5-0 if not for the spectacular effort of Calgary Flames rookie Rato Berra, and they have really set their season right after stumbling in a few games late in October.
Arguably the biggest catalyst for this recent success has been the play of the Hawks' newly configured top line. With veteran wingers Marian Hossa and Patrick Sharp skating alongside Jonathan Toews, the trio has not only provided a boost with their ability to keep the tempo high and pressure on opposing goaltenders intense, but they have also played excellent defense in the process as well. All three players are very aggressive back-checkers, and all three have a keen sense of when to attack the puck-carrier and when to skate back and remain well-positioned to prevent shots.
Obviously, their efforts have been most notable on offense. Over the course of the five games since they were paired up, Toews has scored four goals and added two assists for the Hawks, Hossa has racked up six points of his own, with two goals and four assists, and Sharp has a remarkable 20 shots on goal, with three goals and three assists to show for his efforts.
Those are some big numbers, and what's even more remarkable about them is how the Hawks have been able do it at home or on the road. The home team gets last line change in the NHL, and so they can pick to send out their best defensive unit against a team's top line, and the Wild and Jets both did that against the Toews line. Despite that, the Hawks were still able to impose their will on those games, and won both of them by a combined score of 10-2.
As most Hawks fans know, there is no telling when Quenneville will shuffle up the lines again, so it's not clear if that the top line will remain intact over the long-term. If it does continue to produce like this, however, chances are it will. There is no way that even the ever-tinkering Quenneville will dare to mess with a winning formula, and the group is showing no signs of slowing down.