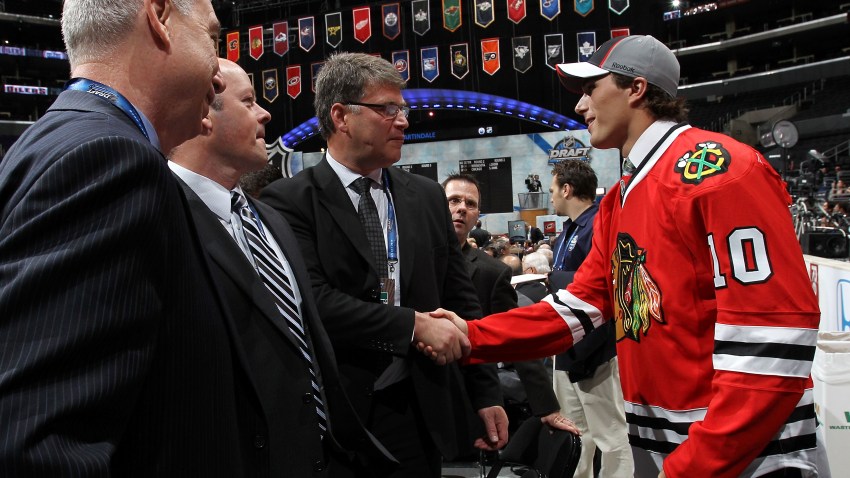 To help prepare our readers for the NHL Entry Draft, scheduled to take place on June 27 and 28 in Philadelphia, Madhouse Enforcer is bringing you a series of posts not only introducing you to the team's top prospects, but also to which players could be a good fit for the Chicago Blackhawks in the future.
Today we continue our countdown of the Top 10 prospects in the Hawks' system with our number seven prospect, Stephen Johns.
The Details:
Drafted in the second round of the 2010 draft by the Blackhawks, Johns has been impressing scouts and fans alike with his huge frame and his bruising physicality. He also has quite a bit of talent as a scorer, picking up eight goals and dishing out 12 assists in 40 games with the University of Notre Dame Fighting Irish in his senior season. His goal and point totals were both career highs during his four-year collegiate career, and just for good measure he picked up 69 more penalty minutes.
Johns signed a two-year contract with the Blackhawks in April, and he made a big early impression with his play for the Rockford IceHogs. In just eight games with the Hawks' AHL affiliate, Johns had a goal and four assists to his credit, and played to a plus-2 rating.
Outlook for Blackhawks:
With Johnny Oduya potentially landing on the trading block at the draft, Johns could be considered as a replacement. He would give the Blackhawks a physical element on the back-end that they're currently only getting from Brent Seabrook, and his ability to handle the puck under duress and find open teammates would definitely be a plus in the Hawks' free-flowing offense.
The only real questions that can be asked about his skillset concern his discipline. His penalty minutes are consistently high, and while that isn't always a deal-breaker at the junior and collegiate levels, it's still something that he would have to work on in the NHL. He'll also have to grow more adept at his stick checking and staying in his lane, as he occasionally will go for a big hit over making the responsible defensive play.