We knew it was coming, and there isn't a lot to say about it. The Hawks were as breathless and punchless as we feared they would be after going all-in the night before against Detroit.
Can you argue with this policy? After the knee capping loss against Anaheim, getting back to winning ways as soon as possible was probably high on the agenda. And it worked. But for the sacrifice of the next night's points?
What made it worse is that in order to beat the Bruins you have to play a game that the Hawks aren't geared for, even when they are fresh. The B's are big. They're nasty. They're well-coached. They take defense first. They keep everything along the boards where their extreme size gives them an advantage. They pound smallish defensemen because they do have enough speed to get to them, which not all big teams do. And the Hawks didn't want any part of it.
They had their chances. The Bruins took two silly penalties in the first, and cashing in one of those would have provided a brief jump. But the Bruins came into the game having killed 26 of their last 28 penalties, and you saw why. They suffocated the top unit of the Hawks power play, and the second unit is a toddler drawing right now.
After that, the Hawks either couldn't or wouldn't fight hard enough to recover loose pucks in the offensive zone to get anything going. They couldn't or wouldn't fight through the Orcs of the Bruins defense to get to whatever rebounds or chances were there. They couldn't or wouldn't take the extra time, and the extra hits, to effectively clear their zone with possession. Once they went down two, and it was clear the Hawks had no legs, Jim Morrisson would have alerted us that the music's over, and it was time to turn out the lights.
Is it disaster? Most certainly not. The Hawks still control their own fate and have looks at four very beatable teams on the docket. Take all of them, which they should, and the playoffs are assured. Three of four probably does it too. But counting on this team to rip off four in a row that they should hasn't always been the soundest policy. It'll be a bumpy ride.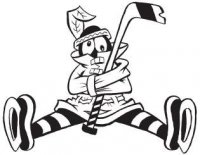 Sam Fels is the proprietor of The Committed Indian, an unofficial program for the Blackhawks. You may have seen him hocking the magazine outside the United Center at Gate 3. The program is also available for purchase online. Fels is a lifelong 'Hawks fan and he also writes for Second City Hockey .