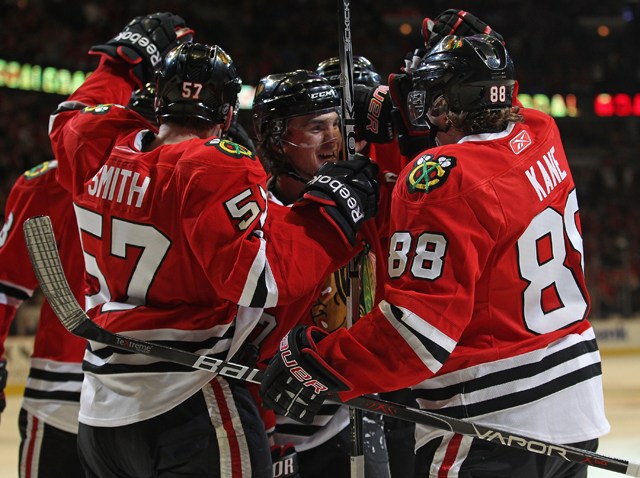 That's essentially what it comes down to on either side. Can the Hawks best players be the best players on the ice and provide the Hawks with their best right hook to at least rock the Canucks for a night? Or can the best team in the league put on a performance worthy of that title and end this tonight except for the shouting?
There aren't too many more x's and o's to be unearthed here. These teams know what the other one has and what they're going to try and do. It's pretty much up to if they can do it. And more importantly, will Jonathan Toews, Marian Hossa, Patrick Sharp, and Patrick Kane make their presence felt tonight? Do they have the legs to do so? Even just one power play goal could make a huge difference. If the Hawks had cashed in on any of their limited opportunities in Games 1 and 2, how different might things look?
The Canucks do have one of the league's best kills for a reason. Their forwards are aggressive and fast, and don't give you a lot of time. The Hawks have had trouble even setting up. They're not letting the Hawks carry the puck in, and the Hawks are dumping it in without any speed built up so it's an easy clear. This all has to change tonight. Dump it in from center with your forwards at top stride at the blue line. Make the Canucks back up. Then there'll be space to carry it in. Once established, the Hawks have to move the puck quicker. The one chance they've created on the PP was at the end of their last chance in the 2nd in Game 2, where Campbell, Keith, Kane, and Toews moved the puck with one touch leaving Toews alone in the high slot. With the Canucks exuberance to close down space, quick passes should expose them. Then you just have to get it past Luongo. No problem there, right?
At even-strength, if the Hawks' passing continues to be a 3rd grade musical rehearsal, then there isn't any chance. The Hawks have to find each other's tape tonight, and it doesn't matter how hard they're getting hit. This is the playoffs, against a rabid monster of a team, and you have to pay the price. The stretch pass trying to get behind Vancouver aren't there. Shorter, quicker looks are the way to go here. Get these down, you'll be hitting the Canucks territory with speed.
But overriding this tonigh is to just be proud. You may be going down, but you can show that you still have some of the heart of a team that last raised the Cup. It may be leaving soon, show that you were proud to have it. Show that you aren't going to be exited with barely a whimper. Prove that you still believe it's within you. Do that, you probably get this one tonight.