As I've demonstrated before, I'm kind of a stats geek.
This is why the current Cubs administration infuriates me; they don't look at the new metrics. I've tried to break down games through the use of outside-the-box stats, but I thought it would be fun to look at more long term numbers today.
+19: This is Brian Campbell's plus-minus, fifth best in the league among d-men. While Plus-Minus is a flawed stat -- it doesn't allow for bad goaltending or players you play with and a few other things -- this is a pretty solid demonstration of how awesome Campbell has been this season. He's also done this while playing 10 games less than the four blueliners ahead of him. Had Campbell been healthy for the first month and playing at this level, he'd be at +26 which would lead the league, not just defensemen.
2.20: This is Campbell's Behind The Net Rating. For those who read The Committed Indian, you'll know I'm real into Behind The Net, the leading site for the new metrics in hockey. Simply, this is an improvement on the plus-minus stat, as it does take into account how much you play and who you are playing with. The Rating is how many goals your team is better or worse off for every 60 minutes you're on the ice. This means the Hawks score over two goals more than they give up for every 60 minutes Campbell plays. This is 7th best in the league. Go check out all the neato numbers yourself at www.behindthenet.ca.
22-13-3, 13-6: The first is the record of the Hawks when Dave Bolland plays, the second is when he registers a point or is a + on the evening. While I've given Bolly a fair amount of grief, these speak for themselves. When he's in the lineup and at least shutting down the other team's top line, the Hawks chances improve greatly. When he's a threat offensively, it goes up even higher. When he plays as well as he did Wednesday, they're dominant.
14%: This is Patrick Sharp's shooting percentage. It's on the top side of the league, but not abnormally high to suggest a sick amount of luck. In fact, this would the only the third-highest percentage of Sharp's career. His 36-goal campaign saw him score on over 17% of his shots, and two years ago it was 14.7% What is different is Sharp is going to blow by his career high in total shots, averaging four per game. If he keeps shooting and scoring at this rate. he will score a total of 45 goals or so. The last 40-goal scorer for the Hawks? Tony Amonte in '99-'00. And some would argue he was just as handsome as Sharp. But I'll let you all sort that one out.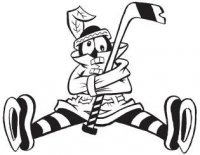 Sam Fels is the proprietor of The Committed Indian, an unofficial program for the Blackhawks. You may have seen him hocking the magazine outside the United Center at Gate 3. The program is also available for purchase online. Fels is a lifelong 'Hawks fan and he also writes for Second City Hockey .