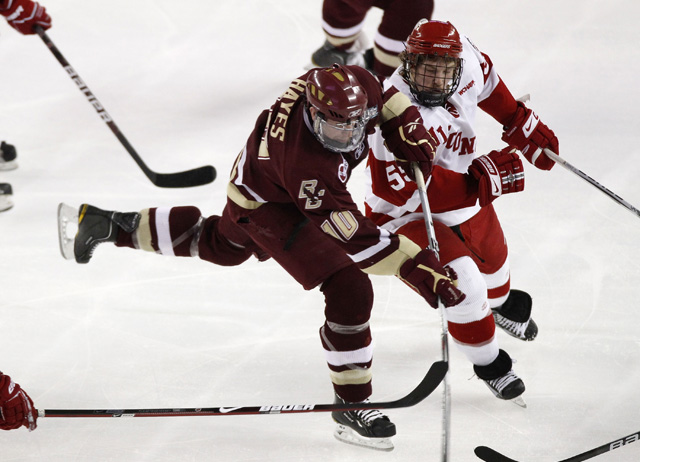 It should be clear to you by now that mid-July and August are a period of writing about the Hawks where you have to avoid the tumbleweeds to get to your keyboard. The majority of signings are done, arbitration isn't here yet, the draft is over, and training camp is very far away. Prospects Camp presents a small oasis in this desert of hockey. It's the future Hawks, or at least which we hope will be, getting together and showing their stuff for the coaches and organization.
But with Prospect Camp is the beginning of Blackhawks Propaganda season. Consider this training camp for that, and actual training camp the full out opening of the damn on this huff. For the next few days you'll hear stories from every beat writer about some kid who's really impressing at Prospects Camp and to keep an eye on him at training camp.
Today, it's Jimmy Hayes. Hayes was last year's acquisition from the Toronto Maple Leafs, who scored 21 goals for Boston College this season and then finished out the year with Rockford. Today in the Sun-Times and Tribune, you get stories lauding Hayes for his size and skill. How he towers over most of the other prospects, how he was working out after practice, and his plus hands for a man of his size. You'll get quotes from Bowman about how much they like him, and then quotes from his brother Kevin about what he's really like.
You know where it goes from here. This will carry over to training camp, where they'll continue to gush about him and ever so slightly hint he could make the club. Last year, it was Nick Leddy, Marcus Kruger, and Igor Makarov. Only Leddy proved to be anywhere near ready for the big time, and that took forever. Makarov may never sniff the NHL.
They'll do it again with Kruger this season, and possibly Brandon Pirri and the elder Hayes. Why does this happen? Well, the Hawks are intent on proving what a drafting genius Stan Bowman is for two reasons. One is the still unseemly way he got the job, and the second is the guy he hijacked the job from just happened to draft Kane, Toews, Bolland, Keith, Seabrook, Hjalmarsson, Crawford, and a couple departed players. It's a lot to live up to.
Another reason they do is that when these kids do come to the big club, they can say, "We've wanted him here a while but couldn't find a way. " Thus it was with Marcus Kruger. It makes the team look better off as they give off the appearance of being so good they just couldn't fit this hotshot in without injuries, even though you only need three functioning neurons and a smidgen of brainal fluid to know different. And it also excuses why they didn't acquire somoene from elsewhere. We just believed so much in this kid we couldn't block him!!!
Why does the Hawks press eat this up? Well, you don't want to cast doubt on a prospect and then watch him come to the NHL and dominate and make you look like an idiot. I'm used to being an idiot so I don't care. It's easier to just parrot what the organization tells you when it flames out then having to say, "Well I didn't think Patrick Kane wouldn't be any good, and I was wrong." Add to that an aversion to ever crossing the Blackhawks for fear of retribution and you get this.
Welcome to Propaganda Season. It's tons of fun.