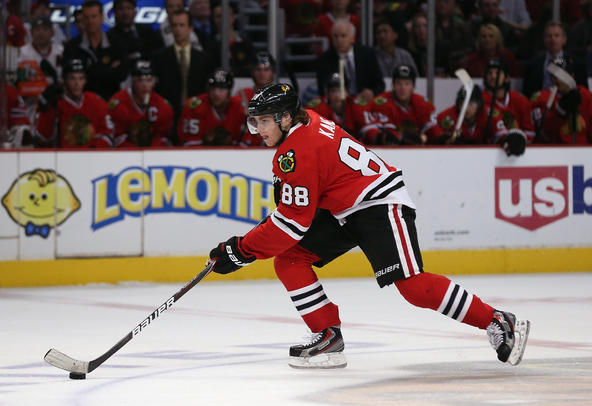 UPDATE: Hawks Clinch Division Title

The Chicago Blackhawks and Detroit Red Wings will battle at the United Center for the final time this season, and there is a lot more on the line than just bragging rights in one of the NHL's fiercest rivalries.
For the Red Wings, tonight's two points are especially critical, because they are barely hanging onto the eighth spot in the Western Conference playoffs. The Phoenix Coyotes are breathing down their necks, with only two points separating the two clubs. The Dallas Stars are three back of the Wings, but also have a game in hand, and they have a home game with the Red Wings remaining on their schedule. Even the Columbus Blue Jackets are still in the playoff picture, with three points separating them from the Red Wings and a shocking playoff appearance.
The Blackhawks, on the other hand, are in the driver's seat of the Central Division, and could potentially clinch the divisional title tonight. If the St. Louis Blues fall to the Blue Jackets in central Ohio tonight, the Hawks would only need one point in their remaining nine games to clinch the title, which comes with a guaranteed home ice advantage in the first round.
With those storylines in place, the Hawks will be starting Corey Crawford in net as they try to pass another milestone that has the air of a mere formality. Crawford hasn't played in net for Chicago since losing a shootout to the Blues last Thursday at the United Center. In the meantime, Ray Emery has won three straight games for the Hawks, including two shutouts, and has really amped up the pressure on the 26 year-old Crawford to respond with his starting position on the line.
Perhaps working in Crawford's favor is how well he has played against Detroit this year. In three starts, Crawford has only given up three goals on 97 shots, and has helped the Hawks to three victories against their hated rivals.
On the offensive side of things, head coach Joel Quenneville will have to work one more game without center Dave Bolland, who is eyeing a Sunday return from a lower body injury that has now cost him three games. In his place, he will run a second line featuring Marcus Kruger and Patrick Sharp splitting time at the center spot. Marian Hossa will also remain there, with Brandon Saad, Jonathan Toews, and Patrick Kane taking over top line duties.
Granted, these lines are subject to change, as fans saw on Tuesday night against the Minnesota Wild. Quenneville was wildly changing up line combinations, and didn't real seem content with any of his combinations. About the only thing he stuck with consistently was keeping Saad and Toews together, but with the end of the season approaching and Quenneville looking to lock down his lines, don't be surprised to see more shuffling if the Hawks struggle to score at all tonight.