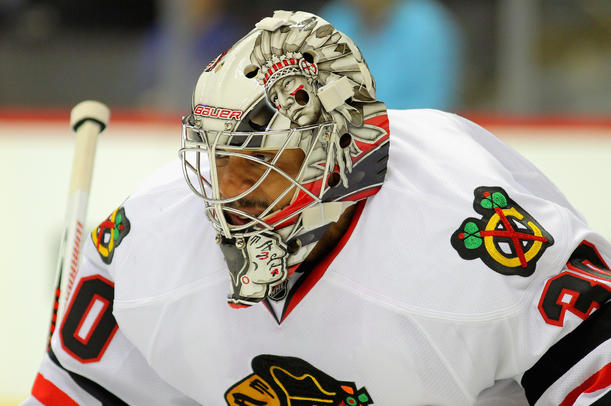 One of the biggest stories of the Chicago Blackhawks' offseason was the team's decision to move forward without goaltender Ray Emery, who had racked up a 17-1-0 record for the team during their regular season.
The Hawks didn't even offer Emery a contract after the season, knowing that he would prefer to try to go to another market to be the starter. That's exactly what the veteran did, signing a 1-year deal with the Philadelphia Flyers to compete with Steve Mason for the starting job.
Unfortunately for Emery, he didn't end up beating Mason out, and Emery has once again been more of a fixture on the bench and has worn a baseball cap way more often than he's worn a goalie mask. In 10 games this season, Emery has a 3-5-0 record with a 2.57 GAA and a .908 save percentage. In his last appearance on December 7th, Emery came in relief of Mason, and he gave up a goal on eight shots in a 5-1 loss to the Dallas Stars.
Fortunately for Emery, he will get a chance at redemption on Wednesday night when he takes on his former team at the United Center. It is kind of a bummer that Emery won't be able to go up directly against Corey Crawford in the game, since Crawford is sidelined with a lower body injury, but the chance to face his former team in a nationally televised game has to be a thrilling one for Emery.
Or so you would think.
"A game is a game, and you want to focus on that game," Emery said of facing the Hawks. "You appreciate the year and with a championship season, you have time to celebrate that during the summer, and I am kind of past that and want to do well here."
Emery also said that the coolness of playing against a former team is a novelty that "kind of wears off after playing for a few teams," but it's a fair bet that he would take quite a bit of satisfaction in a victory if the Flyers can knock off the Hawks in this one.