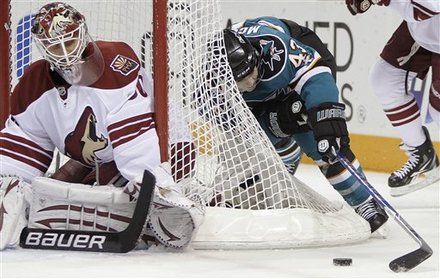 I was remarking to my brother right before faceoff last night how much I wasn't looking forward to the game against the Stars. And he responded by saying they're all going to be like this from now on.
I sure hope not. I'd love to be able to enjoy watching the Hawks again.
Same as it ever was. I've constantly sat here and written about all the warts and faults the Hawks have displayed this season, and they were all right there for you to watch last night. I'm so tired of it, as I'm sure you are as well. I don't really have the patience or the masochistic section of my personality to live it all again.
But the failure to put a team away, the dumb penalties, the laziness, the incompetence from players the Hawks depend on, the one bad goal, it's all there. You can read any wrap of mine from a previous loss and probably figure out what went on last night.
I've seen a lot of postgame ire being thrown Marty Turco's way for his 0-fer in the shootout. I think it's wasted emotion. A shootout, as unfair as it is and as much strategy as you want to put on it, is pretty much a lottery. If those Stars players make the same move and ring it off the post, then does Turco have a good shootout? Of course not. If you want to get upset about the goal he let in to Stephane Robidas to start this mess, then I won't stop you.
I'm trying to find things to be positive about. You'll always take three of four points on a back-to-back, no matter how much you should have had the first two and you threw them away like your high school sweetheart when you saw the talent available at college. The Hawks can still do that. Moreover, a 3-2-1 roadtrip would not be considered disaster. To keep going, the next four after this game lineup as all winnable, as I've already covered in previous posts.
But the obstacle tonight is considerable. The Phoenix Coyotes have won three in a row, sit comfortably ahead of the Hawks, and their last two home games they haven't given up a goal. The Hawks are tired, being down a full quarter of their forwards for the last half of last night's game (that's a lot of measurements right there). The Yotes have been off since Wednesday, the Hawks had to go 65 minutes last night. I'm sure the Men of Four Feathers are dreaming of their own beds at this very moment. The excuses to be grabbed to justify yet another mailed-in performance are plentiful. But this is where a playoff team, and one that still considers itself a contender which at least the Hawks themselves do, walk up to Mean Gene Orkerlund and tell them about testicular fortitude. We'll find out exactly how much they have in the desert.
The Coyotes are the same magic show they were last year. They don't have any starts, but spread out their scoring as eight guys have at least 10 goals. Keith Yandle on the blue line is as close as you'll find, and will be one day soon. He's a highly aggressive defenseman who plays the game Dustin Byfuglien plays but with more defensive awareness (read: any). Goalie Ilya Bryzgalov is playing for another contract, which is when he's at his best. His last three starts have seen him only turn his head to witness a flashing red light twice. But before that the Sharks and Canucks lit him up for 9 goals combined, he can throw in a clunker.
The Coyotes, sadly, are a team you can only beat by skating until your socks catch fire. Which wouldn't seem to be a strength of a tired and only sometimes-interested Hawks team, especially for the 60 minutes this will require. They trap, clog the neutral zone, and wait for their opportunity. But this isn't quite the Berlin Wall it was last year, as the Yotes only rank 15th in goals-against and even worse in shots-against. But with everyone contributing in this lineup, and sure to be up in you for the entirety of the game....well, Hawks, what are you made of?