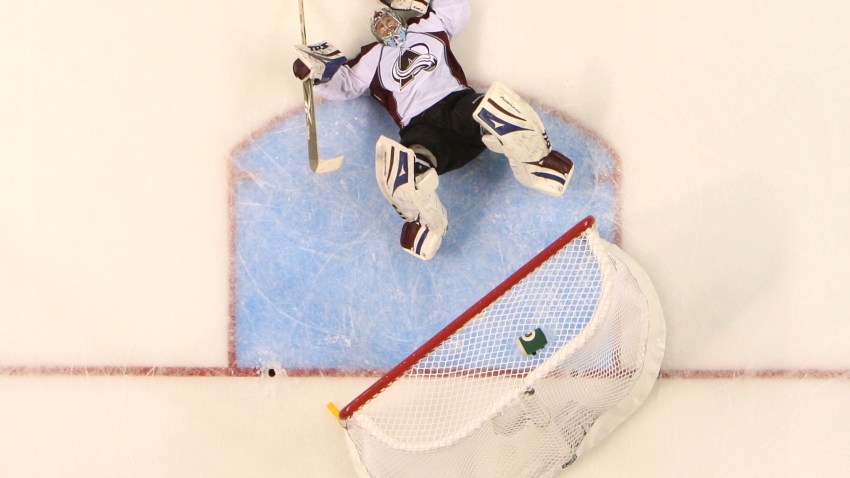 Tonight, the 'Hawks will get a look at the biggest firewagon outfit the league has to offer, the Colorado Avalanche. The Avs are second in the league in goals, at 3.40 per game.
They are, however, fourth to last in goals-against, giving up 3.1 per game.
They have speed all over the ice, and young talent to boot. Oh, and they have a goalie, Craig Anderson, who can pull their behinds out of most slings.
The Avs are the stat-nerd's nightmare. Last year, they were consistently outshot -- and by a large margin -- yet found a way to the playoffs. While they've improved this year, they still give up as many shots as they take but they win more than they lose, despite the numbers suggesting they shouldn't. Anyway, here's the lineup they'll be sporting:
First Line: Kevin Porter-Paul Stastny-Brandon Yip
Second Line: Tomas Fleischman-Matt Duchene-David Jones
Third Line: Daniel Winnik-Ryan O'Reilly-Greg Mauldin
Fourth Line: Cody McLeod
Defensive Pairing: J.M. Liles-Ryan O'Byrne
Defensive Pairing: Adam Foote-Matt Hunwick
Defensive Pairing: Ryan Wilson-Kevin Shattenkirk
Goalie: Craig Anderson
Or that's as close I can guess, as the Avs are beat up as well. Leading scorer Milan Hejduk will not dress tonight, and Chris Stewart and T.J. Galiardi are long time absentees. On the back end, Kyle Cumiskey and Kyle Quincey, apparently both being felled by a Kyle-centric malady, are out.
Once again, the Hawks catch a team returning home from a long trip. The Avs were just out East for five games -- they went 2-1-2, winning the last two over the Thrashers and Capitals (who are in complete freefall).
Considering how injured the Hawks are, there's enough talent left here to give the Hawks everything they want. The Avs' most consistent player this season is defensemen Jean-Micheal Liles, who is American with two first names. I know, it's weird. Anyway, he's always played a Duncan Keith-Light game, but this year is defensively solid which is a new choice for him. But he really pushes the play for the Avs and gets their transistion going. The Hawks must make him work in his own end, and keep him from pushing up ice.
There will be lots of open space tonight, the Hawks have to make it count.