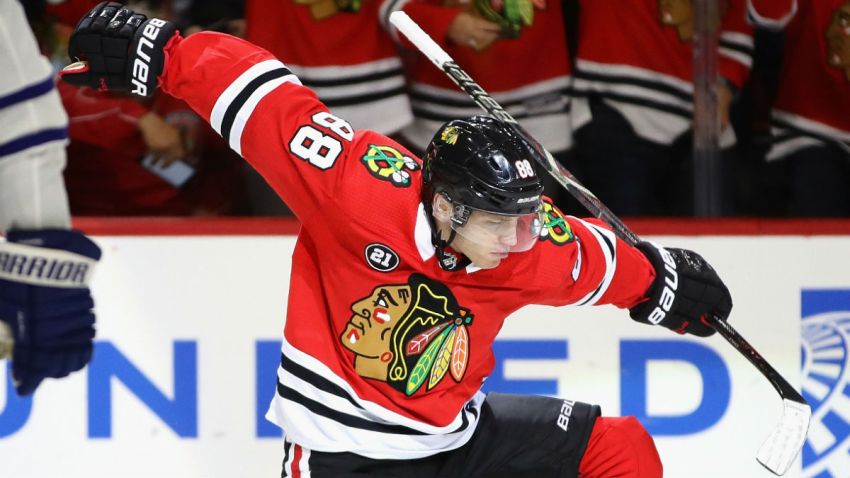 The Chicago Blackhawks may have lost on Sunday night in their home opener against the Toronto Maple Leafs, but they still managed to make some history along the way.
The Blackhawks were trailing 5-4 in the third period of the game when superstar Patrick Kane scored to knot things up at 5-5. After Auston Matthews and the Maple Leafs took the lead again seconds later, Kane scored a second goal to tie the game at 6-6 and force overtime.
According to the Elias Sports Bureau, Kane became the first player in NHL history to score two game-tying goals in the final 90 seconds of regulation.
Kane wasn't the only one making history in the game. The loss leaves the Blackhawks with five points in the standings, and is the third straight game in which the team has gotten to overtime. According to the Blackhawks' postgame notes, they are the first team in NHL history to reach overtime in each of their first three regular season games.
The Blackhawks also trailed in the third period of each of their first two games, but came back to win road tilts with the Ottawa Senators and St. Louis Blues.
Finally, Sunday saw the end to one of the more remarkable streaks in the NHL, as the Blackhawks lost a game in which Kane and Jonathan Toews both scored.
The Blackhawks hadn't done that since Oct. 2013, going 44 games in a row with wins when they got goals from their top two stars.
The Blackhawks will try to start new winning and goal streaks on Thursday when they head to Minnesota to take on the Wild.