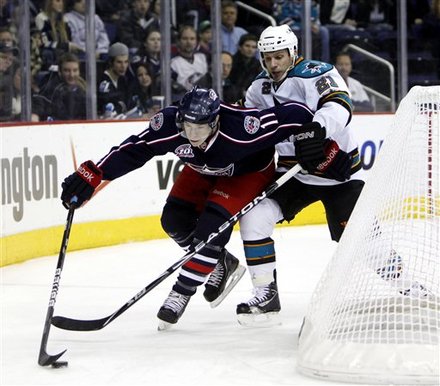 It's another lost season for the Cobalt Army of The Ohio Valley.

The Jackets have been in existence for 10 seasons now and made the playoffs once. They didn't win a game during those playoffs and only led for something like half an hour.

It's been rebuild after rebuild there, with system changes and general manager shuffles, all with the same results. One wonders how much more their few fans will put up with before giving up completely. The turnaround will not be this year, however.
Making things worse for Columbus Friday night is their main (and perhaps only) threat Rick Nash is going to be a spectator tonight, out with an undisclosed injury. Joining him in the popcorn and beer line is goalie Steve Mason, who left last night's game with an injury and won't play.

All of this sets up to be cannon fodder for the Hawks, but they have a way of making these things a lot harder than they need to be. They turned Joey MacDonald into Patrick Roy on Monday in Detroit, and then he promptly gave up 15 goals to St. Louis on Wednesday or whatever it was. Nothing is assured this time of year.
Where might the threat come from? Scottie Upshall was picked up at the deadline for the bane of Patrick Sharp's knee, Rostislav Klesla, and he's always been a sciatic pain for the Hawks. He's got six goals in 16 games with the Jackets, so the Hawks should pay close attention. RJ Umberger (yes, as cartoonish as that sounds) is another who's been a headache for the Hawks, as his size and willingness to camp out in front and the Hawks' aversion to moving him being akin to a 5-year-old and Brussel sprouts always leads to problems.
And this is not a team that's packed it in. There won't be any playoffs, that's been clear for a while, but they played last night in Washington and battled back to tie the game three times before losing in OT 4-3. This was done without Nash and mostly without Mason. Seeing as how this is a division game, they'll be up for it. But having played last night and considering the casualty list, one might wonder how much they have left in the tank. An early lead will put that to the ultimate test.
Strange things happen when the Hawks go to Columbus. For some reason the Jackets try and run-n-gun with the Hawks at home, and it leads to them generally getting paddled. That's what has happened on the first two visits there this year, where the Hawks have scored 12 goals. The Jackets are much more disciplined when they come to the UC. With this lineup, let's hope they make the same mistake again. We could certainly use a stress-free win, if there is such a thing in April.