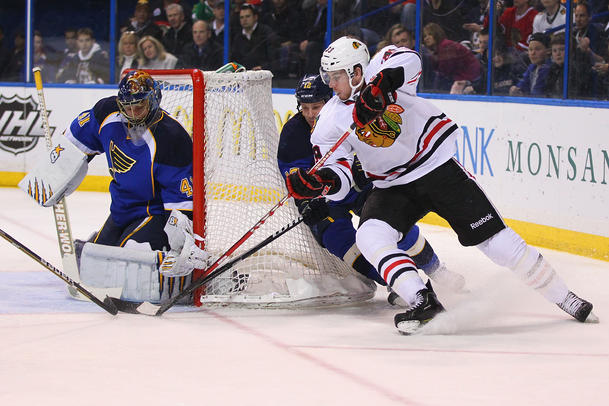 With the amount of roster turnover that happens for just about every NHL franchise, it feels like just about every game in the early part of a season is a homecoming of some sort for some player. In the case of the Chicago Blackhawks, they'll get reacquainted with several players that they cut ties with earlier this year.
That's because former Hawks prospects Dylan Olsen and Jimmy Hayes, who were traded to the Panthers in exchange for Kris Versteeg in a November swap, are both making their return to the Windy City for the first time on Sunday night. For Hayes, it will be a chance to revisit an arena that he was able to play in several times for the Hawks, but for Olsen, the experience will be an all-new one. The 2010 first round pick never did make an appearance for the Hawks, so he will not only be looking to soak in the environs of the UC for the first time, but he will also be looking to prove that the team gave up on him too soon.
Both players have seen modest successes since their departure from Chicago. Hayes has played in 10 games for the Panthers so far, and has three goals and an assist in those contests. He also scored a key goal for the Panthers on Saturday when they knocked off the Detroit Red Wings by a 2-1 margin at Joe Louis Arena.
For Olsen, things have been equally productive from an offensive standpoint. He has been aggressive on offense in the six games he's played, with 12 shots on goal to go along with a goal and three assists. He is also averaging nearly 18 minutes per night, fitting in seamlessly with a Florida defense that was in need of a fresh infusion of talent.
For the Blackhawks, seeing their former farmhands playing well for another team is likely a bittersweet experience. Yes, Hayes had already shown some flashes of the type of two-way physical player that the Hawks had wanted him to be, but in his case as well as Olsen's, there simply wasn't enough room on the Hawks' roster for them, nor was there likely to be any serious openings for either player in the near future.
With prospects like Mark McNeill blocking Hayes' path as a bottom six winger, and with Stephen Johns, Viktor Svedberg, and Adam Clendening all clogging up the blue line pipeline ahead of Olsen, they simply weren't going to be able to make their big break with the Hawks, and as much as it would pain GM Stan Bowman to see them excel in another location, there is likely some pride mixed in there as well that he was able to draft (Olsen) and trade for (Hayes) guys who are looking to become productive NHL players.