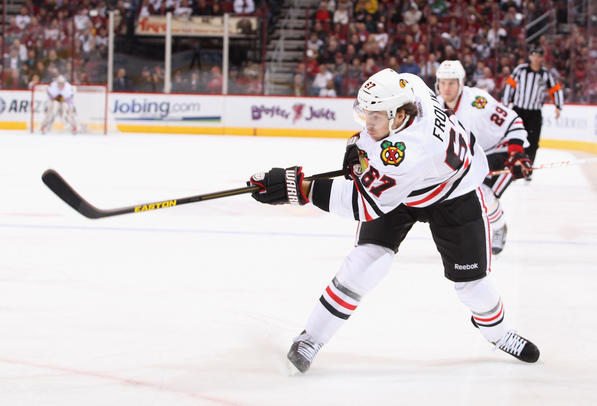 Last Wednesday against the Anaheim Ducks, Chicago Blackhawks coach Joel Quenneville opted to put Daniel Carcillo on the top line in relief of Marian Hossa, who is sidelined with an upper body injury. After just a few shifts, however, Quenneville abandoned this experiment and began double shifting Patrick Kane extensively, allowing his winger to rack up over 25 minutes in the process.
Now, with the defending champion Los Angeles Kings coming to town, Quenneville is likely to once again be without the services of Hossa. Rather than try the Carcillo experiment again, it appears as though he will instead opt for Michael Frolik to make the move up the lineup and onto the top grouping with Jonathan Toews and Brandon Saad.
This move backs up what this blog had to say about what Quenneville should have done instead of having Kane rack up the ice time. From our post-mortem of the game:
"Michael Frolik has been showing a lot of jump on the ice as of late, so he would have been an ideal candidate to replace Hossa, with either Jamal Mayers or Carcillo replacing him on the fourth line."
Now, it does appear that Frolik will get that chance. Despite only having scored one goal this year, Frolik has been very consistent in terms of applying pressure on the offensive side of the puck, and has countered his bad puck luck with some tremendous play on the penalty killing unit.
This move is also perhaps reflective of the respect that Quenneville has for the second and third lines of this team. The second line of Hayes-Bolland-Kane has been good since Hayes came onboard to replace Patrick Sharp in the team's lineup a few weeks ago. The third line of Stalberg-Shaw-Bickell has also been excellent the entire season, and those three players struggled quite a bit when Bickell was moved up to the second line to replace Sharp when the injury to Sharp initially occurred.
All of that being said, it wouldn't surprise anyone if Kane continued to see some extended minutes in the games ahead. Yes, the Hawks are about to embark on a grueling stretch of schedule with a lot of games on the docket, but if Frolik is forced to play a lot of penalty killing minutes, then Quenneville might opt for the more explosive Kane to get extended play rather than potentially wearing Michael out.
With the Hawks' aggressive style of puck pursuit on the penalty kill, they need Frolik to be fresh, so if a lot of penalty minutes begin to be doled out at the United Center Monday night, then things could have to change in a hurry.