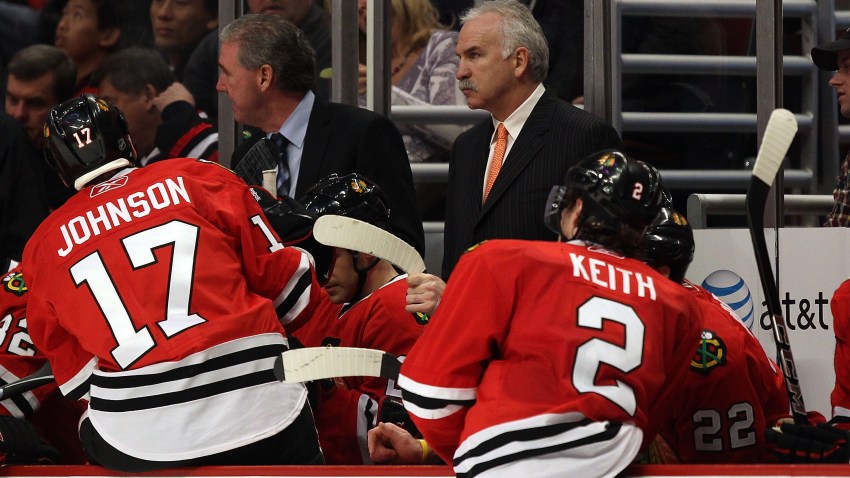 It's generally not a good sign when a guy who was out in the cold for the first two months of the season can actually play a role for your team. Not to take anything away from Ryan Johnson, he did what he does well, but it means that either someone wasn't up to snuff or you had injuries. Or both. Such it was with the Hawks and Johnson, but that doesn't mean he wasn't valuable in his role when he finally got a healthy and a full run in the team.
Positives: Faceoffs. He was best in the league at it, and for the Hawks that's vital because they need to play with the puck. Chasing it far too often this season is what got them in trouble a lot of times. Johnson also was a valuable penalty killer, as when he finally took a full-time role on that unit it showed improvement. Johnson was able to be called upon to take a regular shift, which isn't something the Hawks always had on the 4th line. His defensive play was excellent, and his knack for throwing himself into opposing shots was always welcome. And it was a miracle that he only broke down once.
Negatives: Not too many. Johnson does have a complete lack of finish, and your fourth line does need to chip in a goal here and there. Johnson can't do that. He also did get injured, leaving the Hawks down a center for a large swath in January. It's seems harsh to blame him for being small, but physicality on the 4th line was not going to be provided by him. But other than that, one can't have too many complaints.
Contract Status: Unrestricted Free Agent
Keep Him Or Ship Him: While Johnson was a good solider, the Hawks need an upgrade at center. If the Hawks go out and get someone to be a #2 center and leave Bolland as the 3rd center, then they could get away with Johnson as the 4th. More likely, the Hawks should find someone in the John Madden fashion, a gritty player who does all the things Johnson did with more finish, and someone who can climb up the ladder when injuries hit. There are better candidates out there. Wouldn't be a step back to bring Johnson back, but it wouldn't be a step forward either.