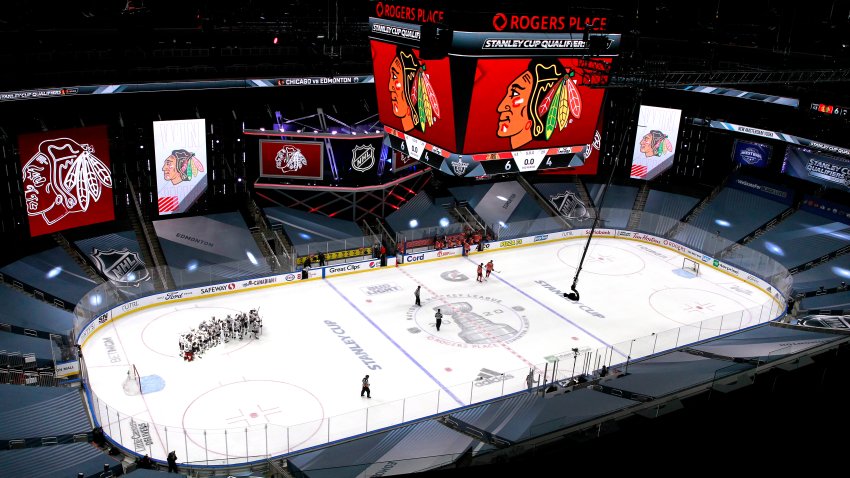 The Chicago Blackhawks beat the Edmonton Oilers 3-2 to advance to the Stanley Cup Playoffs.
With the Blackhawks' win, they will take on the top-seeded team in the Western Conference in the Stanley Cup Playoffs. That team will be either the Colorado Avalanche or the Vegas Golden Knights, with the winner of the Saturday game between the two teams earning that top spot in the West.
In what has been a pattern throughout the series, the Oilers took an early lead just 45 seconds into the game. Connor McDavid picked up the primary assist on the play, feeding a pass to Josh Archibald near the face-off circle. The forward did the rest, beating Crawford and giving the Oilers an early lead.
Later in the frame, the Blackhawks tied things up with some help from Oilers defenseman Oscar Klefbom. The defenseman tossed a pass up the boards that was intercepted by the Blackhawks, and after Connor Murphy's shot is stopped, Saad wheeled around the goal and scored on a wraparound to knot things up at 1-1.
The Blackhawks then took the lead on a great play by Highmore, as the forward deflected a shot from Duncan Keith past Mikko Koskinen to make it a 2-1 game.
In the second period, the Oilers failed to score on a power play, but they scored just two seconds later, as Ryan Nugent-Hopkins picked up a loose puck and lifted a shot into the net to tie things up at 2-2.
The game remained tied until the third period when the Blackhawks took the lead. Grabbing the puck along the boards, Kubalik circled the puck around to Toews, who then fired a pass to the front that the rookie forward buried on a one-time shot, putting the Blackhawks ahead with 11 minutes to go in the game.
Thanks to a massive effort from Crawford, the Blackhawks were able to fend off the Oilers' last minute attacks, advancing to the Stanley Cup playoffs and sending Edmonton home for the rest of the summer.
The Blackhawks will find out their next opponent on Saturday when the Golden Knights and Avalanche battle for the top seed in the Western Conference.