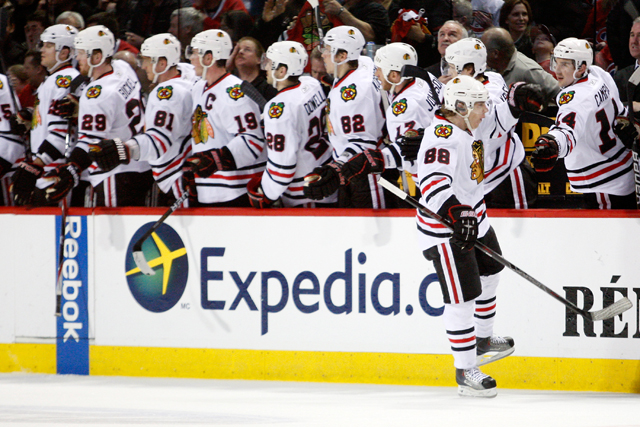 The playoffs in the East were etched in stone yesterday. The top seven seeds in the West are now known, now we just having to figure out what order they come in. The other 15 are on the bus, waiting for the Hawks or Stars to get out of the bathroom at the rest stop.
With a win today, in either regulation or OT, the Hawks will leap up to 5th in the Western Conference. This is actually kind of jarring, because before the season most Hawks fans, myself included, saw this team somewhere just slightly north of 100 points and a 4th seed. At the end of the day, the Hawks could have 99 points and a 5th seed, which would make them only just shy of what we all thought. After all the teeth-gnashing and bellowing and broken whiskey glasses, they'd be pretty much what we thought they were, Dennis Green.
That would earn them a trip to Anaheim next week (and who doesn't love Orange County this time of year?), and a series with the Ducks. They made sure that happened with a sweep of a home-and-home with their friend and neighbor Los Angeles this weekend. If the Hawks win today, everything looks like this:
Vancouver
San Jose
Detroit
Anaheim
Chicago
Nashville
Phoenix
LA
The Sharks locked up the 2 seed last night with a win over Phoenix, meaning Detroit has nothing to play for today other than being annoying. If the Hawks grab merely a point today, the top six remain the same but the Hawks would slide ahead of LA and have a date with San Jose. If they don't win but Dallas loses (or wins in a shootout), the Hawks would remain 8th and have to deal with the unholy force of Vancouver in the first round, which really wouldn't be good for anyone.
Some may dread the thought of playing Anaheim, and I wouldn't be excited about it for sure. But there is no easy opponent in the West these days. San Jose has been the conference's hottest team since February, and they come with a revenge factor too.
Let's just hope we get to talk about this in reality instead of theory by the time the leaders are hitting the back nine at Augusta today.