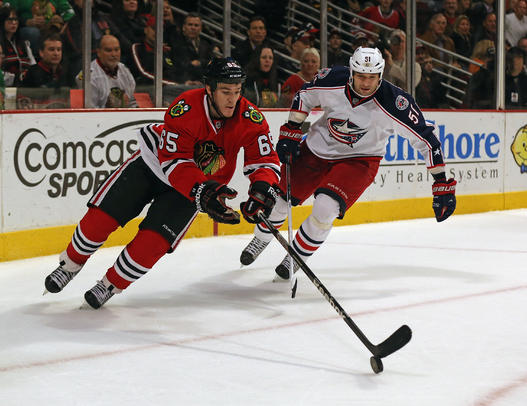 After yesterday's slew of injuries, one would assume that the Chicago Blackhawks would need a MASH unit more than a team charter plane when they travel to Colorado for tomorrow's game against the Avalanche. That's why it was slightly surprising when the team tweeted out the following early this afternoon:
#Blackhawks Sharp (upper body) will not travel to Denver. Frolik (illness) will meet the team tomorrow. Hossa, Shaw and Montador traveling. — Chicago Blackhawks (@NHLBlackhawks) March 7, 2013
Judging by that tweet, it would appear that the Hawks will not only get Marian Hossa back for tomorrow's game, but will also potentially have Michael Frolik, Andrew Shaw, and Steve Montador in the game as well. The only guy who won't be joining the team in Colorado is Patrick Sharp, who will reportedly miss about two-to-three weeks with what is presumed to be a shoulder injury.
Frolik's illness was a random occurrence, but seems to have cleared up. Montador has been sidelined for the entire season with a concussion that he suffered last year, but he's been practicing a lot and it's pretty clear that he's ready to go. Questions arose right after Hossa's late scratch last night that he had potentially had a flare up from concussion-like symptoms he's dealt with off and on since being hit by Raffi Torres in last year's playoffs. All of this injury news is pretty standard, but a person wouldn't be faulted for asking whether or not Shaw is rushing back from what looked to be a head injury he suffered last night.
In the video, Paul Stastny clearly delivers an elbow to the head of Shaw, and after the hit, Shaw was shown skating slowly to the bench. He did end up missing the rest of the hockey game, but in light of criticism of the Blackhawks' treatment of concussions in the past, the question needs to be asked whether or not Shaw is really ready to play.
This criticism has flared with several big name players on the team. Last year, Jonathan Toews played several games after suffering a concussion against the San Jose Sharks in February. He even admitted to playing with the symptoms after suffering the injury.
In addition, Niklas Hjalmarsson also suffered a concussion earlier in that month, but when he came back against Dallas two weeks later, he complained of feeling off-balance, and ended up not playing again for another two weeks after that game. He also played 16 minutes despite his unease on the ice.
Finally, there was a bit of uproar after Hossa came back a game after getting drilled in the head by Vancouver's Jannik Hansen. Hossa admitted at practice before the team's next game that he "felt a little shaky after the hit," and that the feeling lasted for about an hour or so. He did pass concussion protocol tests after the hit, but it isn't a stretch to question whether the team was careful enough with him after having dealt with a serious head injury the season before.
So long as Shaw passed all of his tests and feels okay, there really isn't any reason for the Hawks to hold him out of Friday's game against Colorado, but with all of the questions surrounding this team's handling of head injuries in the past, one has to wonder what will happen when Shaw hits the ice next. Will he be okay, or could we see another Hjalmarsson's style event where he ends up being sidelined even longer because he came back too soon?