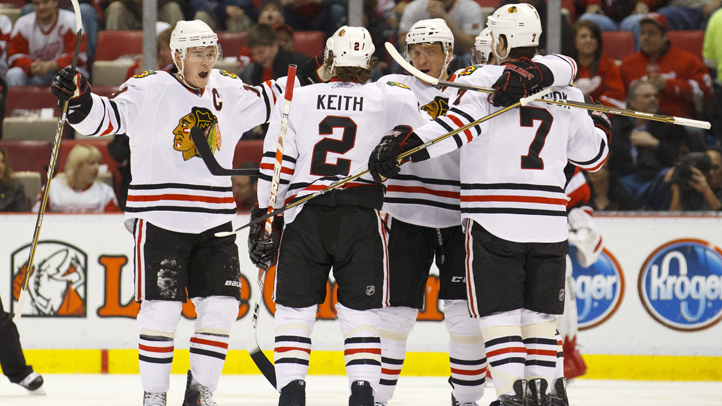 It will be a day of lasts at the United Center. The last game of the regular season, with the Hawks having the chance to be the last team into the postseason party. Hey, they always tell you to be fashionably late, right?
It's a fascinating day. How will the Wings play it? They'll have nothing to play for (at the time of writing the Sharks were up 2-0 after two periods, and if that holds the Wings are locked into the 3rd seed). Do they just preserve themselves for the more important games, to them, that are coming up next week? Do they take a full shot at knocking out a team they will consider very dangerous should they meet again down the road? Do they want to make amends for losing to their division rival four straight times this year? Or do they find such things trivial to what's really important? No one knows. Coach Mike Babcock wasn't exactly pleased by his team's effort on Friday, so one has to imagine he will want to see them come out with more verve than they did.
And what will the Hawks look like? The determined, you-can't-get-rid-of-us-that-easily attitude that was on full display on Friday in Michigan? Or will they come out the nervous, tight outfit that started the Blues game on Wednesday, as well as the one that finished that? If it's the latter, it could be a long afternoon as if the Wings get even a whiff of vulnerability they'll come crashing through the door. On the other side, if the Hawks come out with the fire in their throats and get up early, it's going to be hard for the Wings to locate the necessary desire to fight back when there really isn't much in it for them. Even knocking the Hawks out, which they can't officially do without the Dallas Stars help, would still leave them with all the questions about their team heading forward that they have now. And the Wings will never, ever admit to being afraid to a playoff matchup with anyone.
It promises to be a tense early afternoon. But if the Hawks come with the skating power they showed on Friday, they should be well on their way. The defense of Detroit, aside from walking Hall of Fame display Nicklas Lidstrom, struggles with the Hawks speed. In all four games the Hawks have won they have wreaked havoc on these players, hustling them into turnovers and bad decisions. There's no reason this can't continue.
The Wings will still be without Henrik Zetterberg and Niklas Kronwall. Zetterberg means so much to them, especially when Pavel Datsyuk is still finding his legs after missing time with injury. He was a non-factor in Detroit, and if that's the case again all of the sudden the Wings go from a gatling gun to merely a pistol, or possibly small rifle. If he's on song, he's a severe problem.
The Hawks did an excellent job as wel of staying out of the box and keeping the Zeus lightning bolt of a Detroit power play under wraps. A few penalties early and the Wings will find their rhythm and make you pay. If you have to chase this game, the space you leave behind will be brownie pie to Detroit.
As we say on Second City Hockey, this will not be over quickly. You will not enjoy this. But it's right there for the Hawks, the chance to defend what they hold. All they have to do is go out and take it. If they come in with that attitude, chances are the Wings can't, or more accurately won't, stop them.
Strap in.