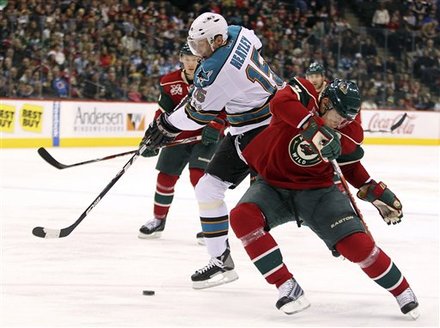 The not-North Stars are in town tonight on a four of five streak, all of which came on the road.
This is the last game of a road trip and before the break, so one wonders how much verve they've got in the tank for this matchup, and how much they're eying the beach or ice-fishing or whatever it is these lads do.
Maybe Martin Havlat can get back to his Twitter account.
The Wild have vaulted themselves into the Western Conference Playoff blob, albiet on bottom rung. They've done it through stellar goaltending by Niklas Backstrom, and when he was hurt scrapheap reclamation Jose Theodore has been just as good. Both of these guys have save-percentages over .915, and that's with seeing a lot of rapid rubber heading their way.
Up front, the Wild are paced by former Chicago deity/lightning rod Martin Havlat. Havlat had a difficult first year in St. Paul, as he was bothered by injury and adjusting to a new team, who had few players who could play with him. About halfway through last season the Wild acquired Guillaume Latendresse, a player who could get to the net and clear some space for Marty, and he then put up 46 points in 52 games.
This year he hasn't let up with 43 points, including some ridiculous stuff you'll see on highlight reels all year. It's the Marty we knew from 2009, and frankly I'm happy to see it. Havlat got a rough ride from fans, press, and the organization over his injury problems, but pulled the Hawks butt out of a lot of slings in the spring of 2009. And it of course has nothing to do with his rugged handsomeness. Nothing at all.
The Wild are also getting an All-Star season from defenseman Brent Burns. Burns has had his difficulty in Minnesota in past seasons, not being able to fit in to former coach Jacque Lemaire's ultra-tight system and then having to adjust to now-coach Todd Richards' up-tempo one, while also being shifted between forward and defense. But this year he's been left alone to be the offensive defenseman he's always been, and it's paying off. He'll always be joining the rush and pinching in the offensive zone to keep things going.
But the Wild defy some numbers. They average getting outshot by 7 a game, and that's not a long term recipe for success. Their aggressive style leaves some of their d-men stranded, and those are quite likely rookies or mediocre to begin with (*cough* Cam Barker *cough*). This will play right into the Hawks hands, as they want to find space behind you to use their speed. As long as the Hawks stay out of the box against a dangerous power play, and keep Havlat from going nuts, they should see this one out.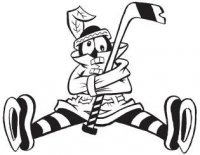 Sam Fels is the proprietor of The Committed Indian, an unofficial program for the Blackhawks. You may have seen him hocking the magazine outside the United Center at Gate 3. The program is also available for purchase online. Fels is a lifelong 'Hawks fan and he also writes for Second City Hockey .