Here's our first foray into what should become a regular Madhouse Enforcer feature: Best of the Hawks.
Being the holidays, this inagural best-and-worst column will have a festive feeling as we examine Hawks over the past seven days. But not wanting to offend, and wanting to quote Papa Costanza at every opportunity, today's theme will be that highest of holidays...A Festivus For The Rest of Us! Onward....to mayhem:
The Feats Of Strength
Jonathan Toews - When Patrick Kane went down, with Marian Hossa already on the shelf, we begged The Captain to shoulder this team like a Titan in the Greek abyss (or whatever they have there in the Aegean). He hasn't disappointed. Six points in the last four games, but beyond that Toews has dominated almost every shift he'sskated. Watch closely, you'll see him continually, furiously snapping away at the opposing end boards, winning the puck and starting the offense. He's won every important draw he's taken, and when called upon, he's been the Hawks' best penalty killer, too. Toews is a leader in every sense of the word. Oh, and he's found himself in the top-20 in scoring in the league.
Brian Campbell - Campbell is another player whom we've asked for more -- despite his being the most consistent Hawk since his return from injury. Campbell dominated the Wings on Friday, and has been a steadying presence. See how Niklas Hjalmarsson's plus-minus rating has gotten back to even from the depths of hell it had sunk to before Campell had come back. He's been as good in his own zone as he's been in his entire Hawk tenure, and he also happens to be statistically the Hawks best penalty killer over the entire season. His rush and pass to Kopecky leading to a goal against Detroit is something only he can do on this team.
Bryan Bickell - I have to admit I'm still flummoxed by Bickell. He doesn't play to his size most of the time, isn't quick enough to be a physical force, and doesn't get to the net to use that body as a screen. But he scores. And he is always in a spot to score, with that Doomsday wrister he possesses. While I think there should be more to Travis's game, no one is going to argue with four goals and five points in five games from someone not on your top two forward lines.
Airing of Grievances
Brent Seabrook - Hard to get past this after his Kabuki theater performance in Denver, and though he's improved since then he's still been jittery with the puck. This will get better and soon, but it's led to its share of Maalox moments this week.
Marty Turco - Only played once, and he's gotten no help whatsoever from his teammates who hung him out to dry. But he clearly hasn't earned their trust, leading to panicky defensive coverage. Turks will be called upon again, and he's going to have to make some big saves for everyone to feel safe. He hasn't done that for the most part.
Joel Quenneville - He's on this list for merely deciding to have his fourth line and third pairing take a defensive zone draw against Detroit, leading to their only goal. Other than that we won't complain much, but with Hossa, Stalberg, and Kane all returning it's time to see Jordan Hendry return to defense and John Scott and Nick Boynton have a seat.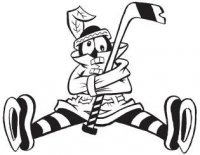 Sam Fels is the proprietor of The Committed Indian, an unofficial program for the Blackhawks. You may have seen him hocking the magazine outside the United Center at Gate 3. The program is also available for purchase online. Fels is a lifelong 'Hawks fan and he also writes for Second City Hockey .