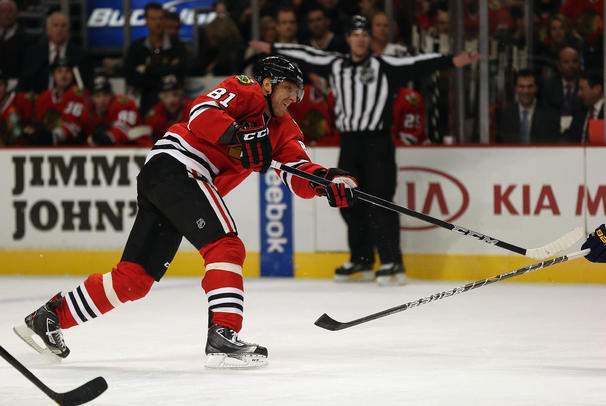 There has been a lot of negativity surrounding the Chicago Blackhawks for the past few days. Whether it was the lackluster performance against the Phoenix Coyotes on Saturday, or the absolute clunker that they played at Vancouver on Monday, this team is generating some ire among its fans.
Even the Duncan Keith "sexism" "scandal" (both words put in condescending quotation marks intentionally) has taken center stage, but in order for fans to experience some catharsis, as well as to give you guys a nice memory to dwell on as the team prepares to take on the Edmonton Oilers tonight, the Blackhawks' Twitter feed was there to save you this morning:
On this date in 2010... Game 5. Nashville. Kane. Hossa. instagram.com/p/Yfbgp-CKwd (Wanna relive the moment? We have it: bit.ly/Y4eCAp) — Chicago Blackhawks (@NHLBlackhawks) April 24, 2013
That's right fans. It's already been three years since Marian Hossa's insane conclusion to Game 5 of the Stanley Cup quarterfinals series with the Nashville Predators. In that game, Hossa was assessed a five minute major for boarding in the late stages of the third period with the Hawks down a goal, and the rest, as they say, was history. Patrick Kane scored a goal with 13 seconds left to tie the game, and then, when Hossa emerged from the penalty box four minutes into the overtime period, this happened:
Still chill inducing, and that may be the loudest the United Center was during that Stanley Cup run.