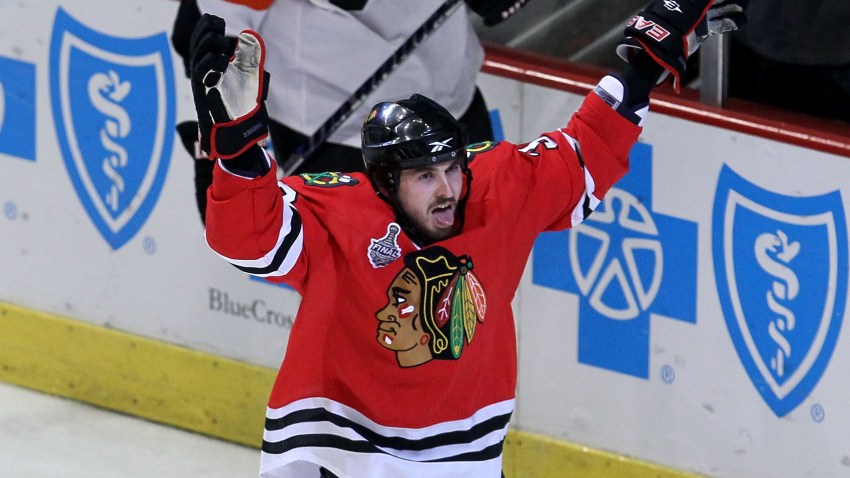 Reports from Tracy Myers of Comcast and Adam Jahns of The Sun Times say Dave Bolland is out tonight, and will be day-to-day with an upper body injury.
Same as it ever was.
My dreams of Bolland ever being healthy are nestling right up next to the ones of playing 2nd base for the Cubs. Because of this, Ryan Potulny will be your 4th line center, with Jake Dowell moving up. Tonight's Hawks lineup will be:
Viktor Stalberg-Jonathan Toews-Jack Skille
Tomas Kopecky-Patrick Sharp-Jeremy Morin
Bryan Bickell-Jake Dowell-Troy Brouwer
Jordan Hendry-Ryan Potulny-John Scott
The defensive pairings have at least been untouched by the injury bug, and will remain the same. This is a good thing, because with that top four the Hawks should be in most every game. They'll need them all tonight, as with the Avalanche's considerable speed this will not be a game for Jassen Cullimore and Nick Boynton. But no game is for Nick Boynton, at least none that are on ice.
Marty Turco gets the start, and this is probably more to try and keep him from getting stale than any confidence in him. The Hawks will need Turco before the season is out, so he can't sit for too long.
For some reason, the Hawks defense is more jittery with Turco than with Corey Crawford. Maybe it's because Crawford's highly conservative, positional style lets his teammates know where he'll be at all times, while Turco can be a Civil War reenactment, and not an accurate one. Secondly, with Turco's puck-handling abiliities his now mobile defensemen are not sure where to go. They're so used to always coming behind their own net that they still struggle when they don't. Should have been sorted out by now.
The Hawks will need another Greek God effort from Jonathan Toews tonight. They barely have one line of NHL quality.
-Both are also reporting that Marian Hossa and Patrick Kane could start skating in the next day or two. Yes, pleae.