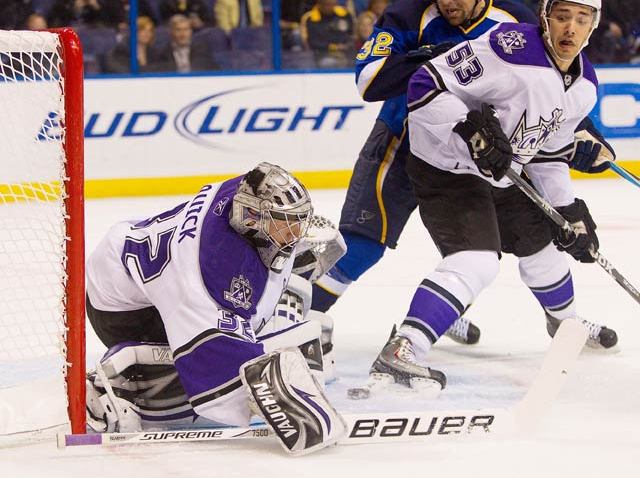 Straight lines. North-South. These are the things you'll hear most about when people are analyzing the Kings. LA plays as simple an offensive game as you can. That doesn't mean their a boring, defensive, trap team. But they play to their build, which is they are a very big team who like to get physical. What you'll see tonight is a lot of dump-ins, their hyper-charged and hyper-nasty forwards crashing into the boards or Hawks defensemen (whichever comes first) to try and retrieve it. Once they do, the Kings don't consider any shot a bad one. They'll fire from anywhere. They do this because they have a set of forwards that specialize in reigning down on your crease like Persian arrows upon the Spartans. Corey Crawford will barely be able to breathe tonight.
Part of the reason the Kings play this way is they only have one player who could be considered "special" as an offensive player (no, not as a student). That's center Anze Kopitar, who gets better every year in the league. This season he's taken it upon himself to carry his team, which he hadn't always before. He's never worked harder along the boards, which is opening up more scoring opportunities for him. But past him, the Kings don't have much of a Plan B. Dave Bolland swallowed him up the last time these teams met in LA, and Kings could only manage a last-minute goal on a two-man advantage.
On the other end, the Purple and Black might have the hottest goalie going right now in Jonathan Quick. His goals-against for the year is under 2.00 and his SV% is third in the league. He'll even come in rested, not having played in their win last night over the Predators in Nashville. To support him the Kings did have one of the best blue line corps around, but it's a bit banged up right now. Regulars Willie Mitchell (who just kills our forwards) and Matt Greene are both out. So past the top pair of Drew Doughty and Jack Johnson, the Kings can be gotten to.
Another key for the Hawks tonight is staying out of the box, as the Kings power play is catching fire. It's gone four for it's last 10 in their past three games. They're catching a team that played last night, so getting out of the blocks quickly will be paramount. If the Hawks can grab an early lead, this is not a team built to play catch up. So do so