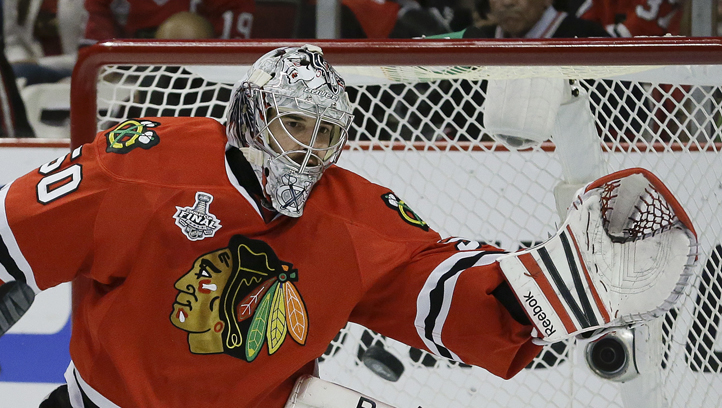 Under General Manager Stan Bowman, the Chicago Blackhawks have made it a point not to overpay for goaltending, but that could conceivably change after this coming season.
That's because goaltender Corey Crawford will be hitting unrestricted free agency when his three year contract he signed after the 2010-11 season expires. That deal, which carries a $2.67 million cap hit, is slightly less than what they would have to pay goaltender Antti Niemi after the team's Stanley Cup run in 2010. In arbitration that year, Niemi was awarded $2.75 million, and the Hawks walked away from it, paving the way for Niemi to go to the greener pastures of San Jose, where he has since blossomed into one of the better goaltenders in the NHL.
Niemi isn't the only player that the Hawks have let go because of their good defense-begets-good-goaltending philosophy. The Hawks also stashed Cristobal Huet over in Europe to keep the exorbitant contract he signed under the previous regime of Dale Tallon off of their salary cap. They have brought in several goaltenders on short-term deals in the interim, with Marty Turco, Ray Emery, and now Nikolai Khabibulin coming in to provide cheap help on the back end of their defensive lineup.
The team also has brought in a few players from overseas to groom for the big squad. Niemi was the first one in that vein, and the Hawks signed Finnish sensation Antti Raanta to a deal, and he will likely begin the season as the starter for Chicago's AHL affiliate, the Rockford IceHogs.
The reason we bring all of this up is that despite this strategy of paying a lot of guys in cheap increments, the Hawks still have managed to turn their goalies into desirable commodities. There were more than a few teams vying for the services of Emery in the offseason, with the veteran keeper ending up finding his way to the Philadelphia Flyers on a one-year contract.
Both Niemi and Crawford have also garnered a ton of attention, and a good indicator of that is a list that Yahoo's Greg Wyshynski compiled of his top 10 goalies in the NHL. Niemi ended up being slotted number five on the list, with Jonathan Quick grabbing the top slot and Henrik Lundqvist, Roberto Luongo, and Pekka Rinne rounding out spots two through four. As for Crawford, he ended up coming in at number eight on the list, just behind former Blackhawk Craig Anderson, who finished seventh, and Tuukka Rask, the Boston goaltender whom Crawford beat in the Stanley Cup Final in June.
Here's what Wyshynski had to say about Crawford:
"Winning the Stanley Cup doesn't make you a better goalie than a crappy contract makes you a worse one. (More on that later.) Crawford was everything the Blackhawks needed during their run to the Cup, even if he didn't start feeling the love until the Final. He had Conn Smythe worthy numbers for the postseason, and won some duels with Rask. That said, Emery gave us 17 reasons last season why playing in back of the Blackhawks' lineup can turn very good goalies into all-stars."
Whether or not you agree with Wyshynski's assertion that the Hawks' system has more to do with Crawford's success than Corey's own abilities is a discussion for another time, but it does fall in line with Bowman's thinking on goalies.
He has also proven that he isn't a guy prone to sentimentality, getting maximum value in deals for homegrown products like Bryan Bickell and Duncan Keith. He also is going to have to worry about re-signing Jonathan Toews and Patrick Kane after the 2014-15 campaign, so dumping a bunch of money into an extension for Crawford doesn't seem like it's going to be on
Bowman's radar.
Then again, he has gone against character before, matching an offer sheet on Niklas Hjalmarsson back in 2010 that ended up costing the Hawks the chance to retain Niemi's services, even at a rate that was seen as too low by some observers.
He may opt to do the same for Crawford, who has been in the Hawks' organization since 2003 and has been a loyal player despite being consistently glossed over for starting chances with the big club and constantly being playing under the threat of replacement from guys like Emery and Turco.
It will be interesting to see if the Hawks attempt to reach a deal on an extension with Crawford in season, and whether or not the team engages in those negotiations will be a good window into what Bowman's thinking is on his Cup-winning keeper. It will be one of the more interesting subplots to the Hawks' championship defense (along with whether or not they will deal Hjalmarsson before the deadline, or attempt to re-sign him despite having several guys in the pipeline capable of replacing him), and will have a big impact on the future direction of the organization.