Let's get this out of the way: the Hawks' 4-1 Wednesday night victory over the Nashville Predators was as clean a win the Hawks have had all year.
By "clean", I mean a mistake-free, stick-to-the-system, defensive throttling. The Preds had, by my count, three good scoring chances all game The Hawks were shutting down passing lanes, pressuring the point-men into turnovers, and blocking shots left and right They took advantage of three mistakes to score. That's how it's done when you're missing two of your best players. And every time you make it look this easy against the Predators, you wonder why you can't do it more often.
To the thoughts:
-As I said, the Hawks took advantage of three Preds mistakes. Dave Bolland pressured Kevin Klein into a lunatic back-pass to his own goalie (good in soccer, not so much in hockey) which led to a panicked Anders Lindback firing the puck right to Fernando Pisani who set up Bolland to score. The second was a silly roughing penalty on Ryan Suter for Jack Skille to score on the power play, and the third was a turnover in his own zone by Preds defenseman Shane O'Brien that Skille again buried. If you can always be that ruthless -- and the Hawks can -- they'll win a lot more than they lose.
-Speaking of Bolland, watching that effort last night is only more infuriating. See how effortlessly he went around Lindback for his goal? See the way he draws defenders to him and in such relaxed fashion calmly dishes to Skille to score? That's what he's capable of, and we don't see it nearly enough these days.
-One thing not getting a lot of play lately is that on Bolland's wing, Fernando Pisani has been really solid lately. Skating hard, breaking plays up, and creating chances himself.
-Apparently, Anders Lindback needs to read his scouting reports more. When Bolland dished to Jack Skille coming down the right wing, all 20,000 in the stadium, the thousands watching at home, and several Norse gods knew that Skille would fire top corner on the shortside. He's done it roughly 643 times this season (sadly, that's not much of an exaggeration). But there was Lindback dropping his glove....
-But Jack deserves it, he's skated his ass off and to see him rewarded with power play time was excellent
-Early in the year when Duncan Keith was being turned into a fine, paste by being played a half an hour a night, I hoped that the Hawks could find a way to give him a breather during the season. They have, and the reason is Brian Campbell. Once again, 51 Phantom (Campbell) led the Hawks in ice time, and let Keith hover around 20 minutes. That's child's play for Duncs. Keep it up.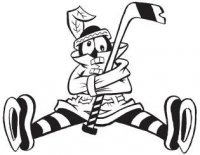 Sam Fels is the proprietor of The Committed Indian, an unofficial program for the Blackhawks. You may have seen him hocking the magazine outside the United Center at Gate 3. The program is also available for purchase online. Fels is a lifelong 'Hawks fan and he also writes for Second City Hockey .