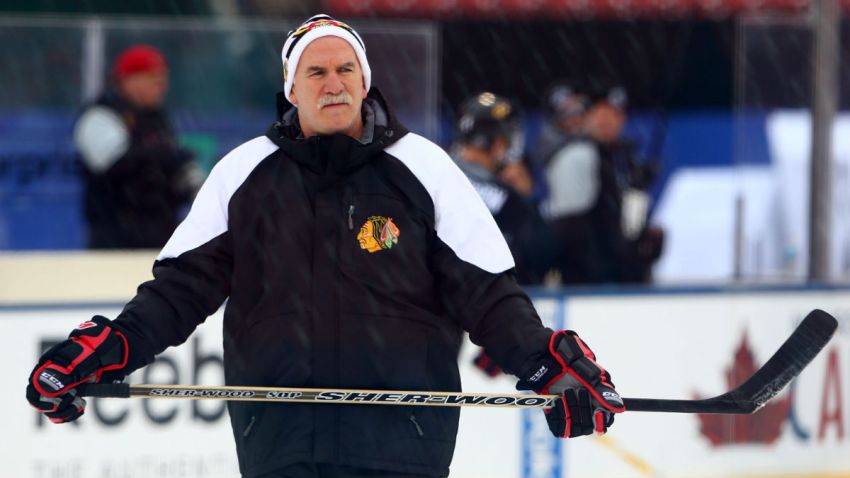 NOTE: NBC Chicago will offer a live stream of the Blackhawks' press conference at 3 p.m. CT Tuesday right here.
Former Chicago Blackhawks head coach Joel Quenneville was with the team for more than 10 years and led the club to three Stanley Cups, but now he's a free agent, and he could end up on the radar for quite a few teams.
After all, Quenneville has an established reputation as a coach, is the second winningest coach in the history of the NHL, and could be a big-time spark for a team in need of a new voice in the locker room.
The question on the minds of hockey fans and experts is this: where could the former Blackhawks coach land if he chooses to get back behind the bench? Here are some potential landing spots for Quenneville:
If Quenneville Wants to Jump Right Back In:
Anaheim Ducks
The Ducks are in a middling position at the moment, sitting in a tie for fifth in the Pacific Division as they try to adjust to life without Corey Perry for the time-being. Randy Carlyle has largely underwhelmed in his second stint with the team, and if G.M. Bob Murray wants to give the team a jolt, bringing in Quenneville would certainly do the trick.
Buffalo Sabres
After getting spurned by Mike Babock several years ago, the Sabres have been slowly constructing a team full of incredible young talent that they feel could soon take a big step forward. Phil Housley really hasn't done that since taking over in 2017, and although he's just 82 games into his tenure, the Sabres could still view Quenneville as an instant upgrade behind the bench.
Los Angeles Kings
The Kings are off to a lackluster start, and nothing seems to be going right, as they fired John Stevens and replaced him on an interim basis with Willie Desjardins. G.M. Rob Blake said the team will keep Desjardins in place for the rest of the regular season, but that was before the Blackhawks fired Quenneville on Tuesday. If the Kings think they still have what it takes to make the postseason, it wouldn't be shocking for them to at least consider bringing Quenneville in.
St. Louis Blues
Mike Yeo has been on the hot seat all year long in St. Louis, and it seems to be only a matter of time before he is sent packing. Quenneville has experience coaching in St. Louis, and if the team wants to give a playoff run one more shot before a rebuilding process likely begins, then Quenneville could be a place-holder in the meantime.
If He Chooses to Wait:
A few other coaching jobs could open up later this year if Quenneville wants to wait for another opportunity. One that immediately jumps out is the Edmonton Oilers' job, as Todd McLellan hasn't quite gotten the results out of the team's roster that management would want while Connor McDavid is lighting NHL defenses up on a nightly basis.
A reunion with former Blackhawks G.M. Dale Tallon could also be on the table, as the Florida Panthers are struggling in their second season under Bob Boughner.
Could Quenneville Retire Instead?
At 60 years old, Quenneville is in a position where he could also simply retire and walk away from the game. He could take on a consulting role, similar to what he did when he joined the Blackhawks organization in 2008, or he could ride off into the sunset having put together a career that will surely land him in the Hockey Hall of Fame someday.