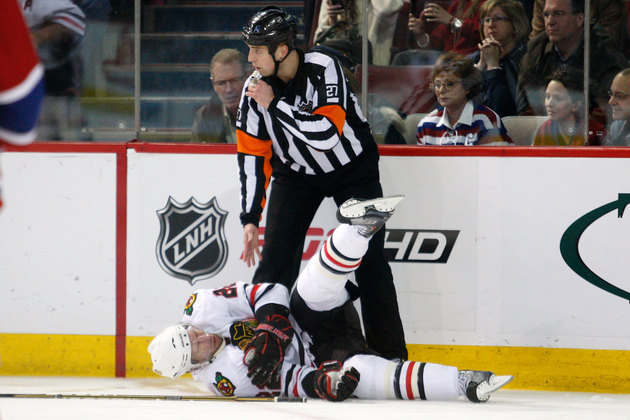 As with all end of hockey seasons, there's a limbo line under the surgeon's knife. It was Troy Brouwer's turn yesterday, having surgery on what is reported to be a torn labrum. There isn't a timetable on his return, though they do expect a full recovery. It was also reported that this was something that Brouwer was dealing with all season, which could explain his up-and-down performance (though so could his constant shuffling through the lineup). However, we can all be sure he made it worse with his Python-esque face-plant into the boards after whiffing on a check worse than Alfonso Soriano on a half-decent slider.
While they won't provide a timetable, we can guess at one. Marian Hossa, when he was signed, had the same injury. His surgery came in August, and he didn't return to the lineup until the end of November. So that was about four months. And it's a wonder if that thing ever healed correctly. The general consensus is that it will take four-to-six months for a complete recovery.
All of this makes for a very interesting summer for Brouwer and Stan Bowman. He's a restricted free agent, and it was unclear whether he was in Bowman's plans or not. He certainly got a more lukewarm response from Bowman when the GM was asked about him than did Campoli, Crawford, or Frolik. There are some things at play here.
One, Brouwer is a rare commodity. He's a power forward, or at least can be one at times, and that's probably the hardest thing to find in hockey. A guy who can hit, defend, and score just don't pop up all that much. The Hawks do have a couple in the system who could be that one day -- Kyle Beach and Jimmy Hayes jump to mind -- but they're both at least a year away from the big club. And in Beach's case, most likely to be moved. You wonder how easily you can let one go that you already have.
Secondly, with this injury, one has to wonder how many other options Brouwer will have. This isn't Marian Hossa, whose immense talent will overshadow injury concerns. Brouwer doesn't have that resume. Troy may have to accept the Hawks qualifying offer, prove he's healthy to the league next season, and then write his own check the following summer.
I hope it's the latter. SImply too unique of a tool to lose.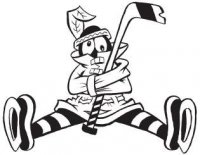 Sam Fels is the proprietor of The Committed Indian, an unofficial program for the Blackhawks. You may have seen him hocking the magazine outside the United Center at Gate 3. The program is also available for purchase online. Fels is a lifelong 'Hawks fan and he also writes for Second City Hockey .