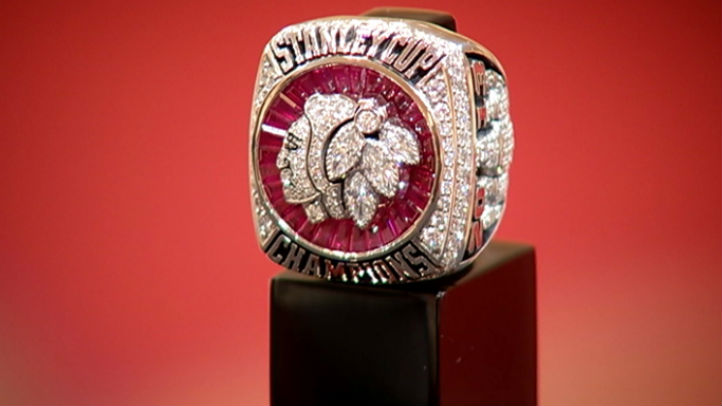 The Chicago Blackhawks have made it a point to come up with some really unique ideas to benefit the team's charity in the past few years, but bringing back a raffle that they held three years ago may be the smartest of them all.
Instead of buying a vial of ice or a camouflage jersey, Hawks fans are now being invited to purchase tickets to enter a raffle. The prize of the raffle? An authentic Stanley Cup championship ring.
Here's a bit more information about the ring:
"The 14-carat white gold ring weighs approximately 96 grams and consists of 260 diamonds and gemstones totaling roughly 14.68 carats….

"The authentic ring will be engraved with the winner's name and presented by a Blackhawks representative during a special ceremony on Sunday, April 6th, 2014, before Chicago hosts the St. Louis Blues."
The winner will also receive four tickets to the game against the Blues, and will get a tour of the United Center, along with a two-night stay at a hotel and round-trip coach airfare (if necessary).
The raffle tickets, which cost $2 (with a minimum purchase of five tickets required) and can be purchased at www.chicagoblackhawks.com/ringraffle, will be sold from now until 2pm Central time on March 21st, 2014. The winner of the drawing will be announced that night when the Hawks take on the Carolina Hurricanes at the United Center.
All proceeds from the raffle will benefit Blackhawks Charities.