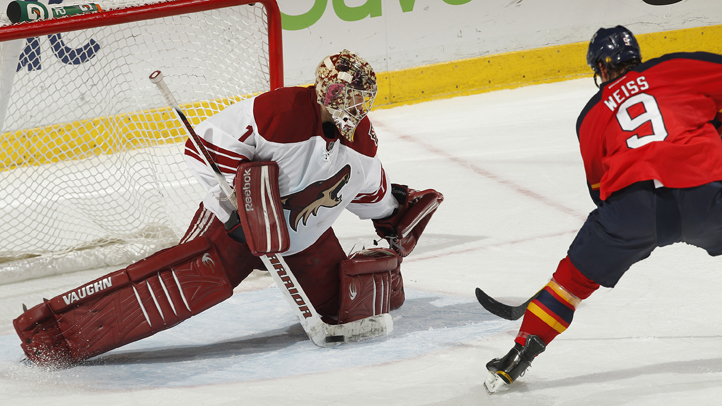 In a move that most people saw coming when the Chicago Blackhawks acquired him from the Edmonton Oilers earlier this month for future consideration, the Blackhawks recalled goaltender Jason LaBarbera from the Rockford IceHogs on Thursday night.
In a corresponding roster move, the Hawks sent down goaltender Kent Simpson, who appeared in one game for the Blackhawks, playing in the third period of the team's loss Saturday at the hands of the Toronto Maple Leafs.
As for LaBarbera, he appeared in seven games for the Oilers this season, with a 1-3-0 record with a 3.28 GAA and an .870 save percentage. He also appeared twice for the Oklahoma City Barons in the AHL, with a 1.93 GAA and a .953 save percentage in those contests.
So what does this mean for the Blackhawks' goaltending situation? Obviously LaBarbera is going to be the backup to Antti Raanta for a little while, but with Corey Crawford looking to start skating soon, it isn't clear for how long that arrangement will last. Odds are that when Crawford returns, it will be LaBarbera who will remain his back-up, with Raanta heading back to Rockford to get more frequent starts with the IceHogs.
The Hawks will obviously reserve the right to send LaBarbera down if he struggles in the same way that Nikolai Khabibulin did in relief duty earlier this season, which would bring Raanta back to the big leagues.
Any way you slice it, the Hawks are once again deep at the goaltender spot, and GM Stan Bowman will have a lot of options open to him once Crawford returns from his lower body injury.