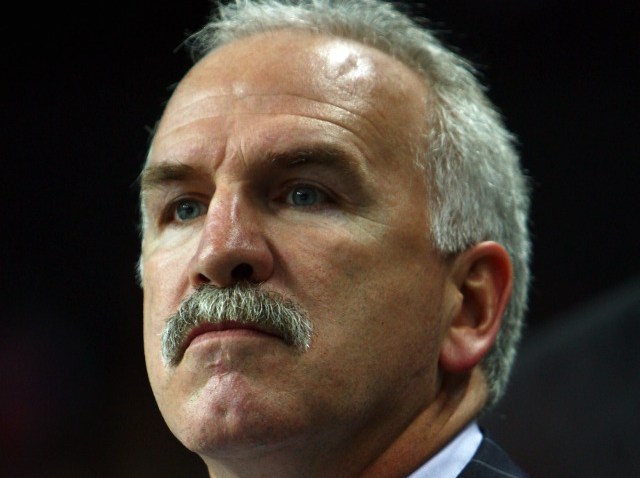 Blackhawks coach Joel Quenneville is redy to get back on the ice after a bout with bleeding ulcer put him in the hospital last week.
"I was on IR for a week," Quenneville joked Wednesday. "We'll call it an upper body injury and its all good, good to go."
Quenneville said the only pain he suffered from the malady was actually having to sit in the hospital room to watch games.
Though he did pick up some new perspective on his team through the work of the medical staff caring for him.
"You get to observe the value of teamwork and how everybody can cohesively work," hhe said
"You watch that process and equate it to what we do ... and the team that we can be."
Quenneville didn't completely leave his coaching duties. He went over game plans with Assistant Coach Mike Haviland before and after games.
"It was tough," he said about being physically removed from the coaching lines. "I couldn't wait to talk before or after games, but during the game I let them go."
His team went 3-1 in his absence. Quenneville's doctors have cleared him to return to work with no restrictions on his diet, or his familiar approach with referees.
"Yeah, I think I should tone it down though" Quenneville smiled.
And no, stress had nothing to do with the ulcer, though Quenneville laughed at the image of the head coach popping aspirin over the performance of his team.
"The doctor, and you guys will have a hard time believing this, this has nothing to do with stress!"
But did he tell his team that?
"No I didn't, but I should, they'll have an even harder time believing that."
Now if the Blackhawks can build of this feel good story, there would be more than just smiles around the Blackhawks.