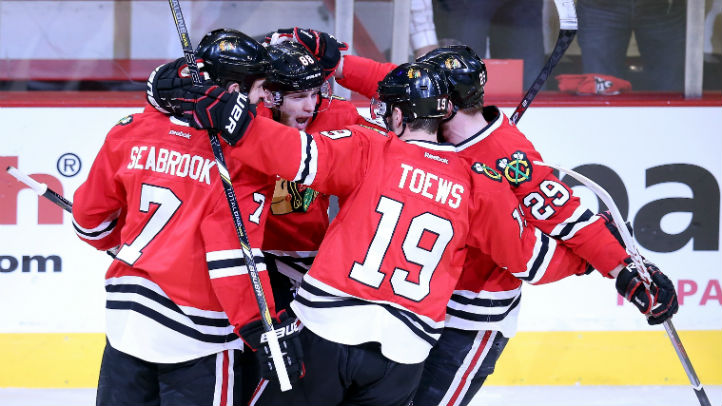 In one of America's most sports-rabid cities, the one thing that everyone loves is a winner, and that is repeatedly being proven about the Chicago Blackhawks.
Not only are ticket prices skyrocketing for the team's Stanley Cup Final series, which begins Wednesday, but even other sports teams in the city are getting involved.
The Chicago White Sox have made it a ritual to blast the Hawks' goal horn at US Cellular Field whenever the Blackhawks have scored a goal this season, and it could be argued that the horn got the loudest applause at the stadium when the Sox recently hosted the Chicago Cubs.
The Chicago Bulls, the Hawks' co-tenant at the United Center, also had their press conference pre-empted today with Blackhawks fever. Chicago Mayor Rahm Emanuel, in his remarks about the groundbreaking of the Bulls' new practice facility on the West Side, opened his statement with praise for the Hawks' incredible playoff run.
Here is the quote, courtesy of Ted Cox of DNAinfo Chicago:
"First, Saturday's game for the Blackhawks was a tremendous game. I want the entire Blackhawk family to know everybody's excited about Wednesday night and the rest of the season."
The facility, which is slated to open prior to the 2014-15 Bulls season, looks magnificent, and, according to NBC Chicago's Bryan Crawford, will cost approximately $25 million to build. Even on what should have been the Bulls' big day, the Blackhawks remain front and center in the minds of Chicago sports fans.