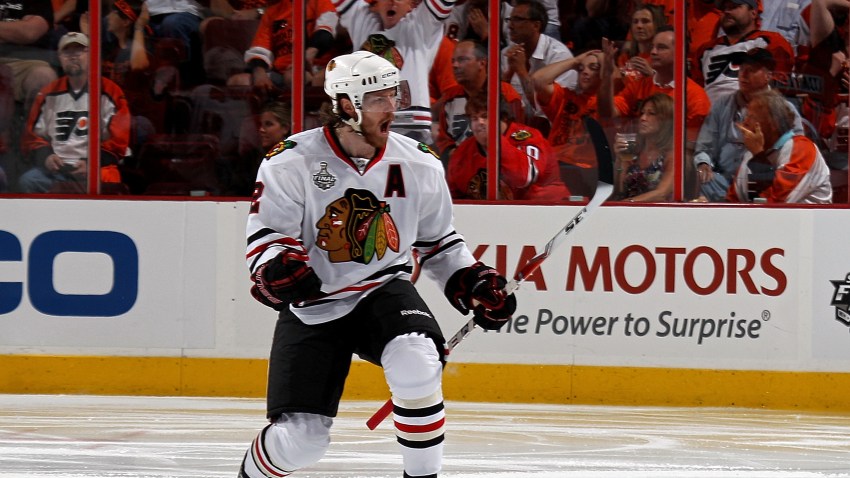 While the scoring load falls to Marian Hossa, the Hawks will not have a mini-revival (all that's required. Don't need a full-blown revival here. And we don't want to clean up after full revivals. Quite sticky) if Duncan Keith can't straighten himself out over these next 30 games.
To say he's been awful this season is probably a tad harsh. It's only compared to the lofty standard he set last season when he deservedly took home the Norris Trophy. Perhaps that was just a spike in what would be the meter of his career path, instead of the setting of a new platform. I always thought his offensive numbers were a tad inflated, though you could argue that some of this season is down to bad luck. His shooting-percentage is down from 6.6% to less than 3%. If he was matching last year's rate, he'd have seven goals to the three he's got now. Then again, it has nothing to do with luck that Keith seems to have agoraphobia channeled through the puck and thus can't fire it into open spaces but immediately into someone's shins.
But it's on the other end that Keith has really let down. And it's mostly due to his own laziness or stupidity. We've rarely seen Keith get the puck, shake a forechecker, and then skate it out on his own to start the rush. These days, he's more happy to go retrieve the puck and just fire it around the glass where it assuredly gets held in, or try a pass that only he can see because it doesn't exist, resulting in bad turnovers and scoring chances. The penalty kill is partly down to him, as he's shown no desire to tie anyone up in the crease, leaving them to gleefully bat in rebounds and loose pucks while Keith half heartedly reaches for their stick as if it were the third beer on the couch on a lazy Sunday.
Keith will never be an atom-smasher. We don't expect him to crack skulls in front of his goalie and Chris Pronger might. Keith's style is more dependent on positioning and quick hands to keep sticks of opponents in check. Keith has not worked to get into position or fight for rebounds. Players just get to stand there. Over the next 30 games, Keith has to show more snarl on the kill. When retrieving the puck, he has to show more patience than he has and be willing to use his speed to get him out of trouble. That simply requires a will to do the work.