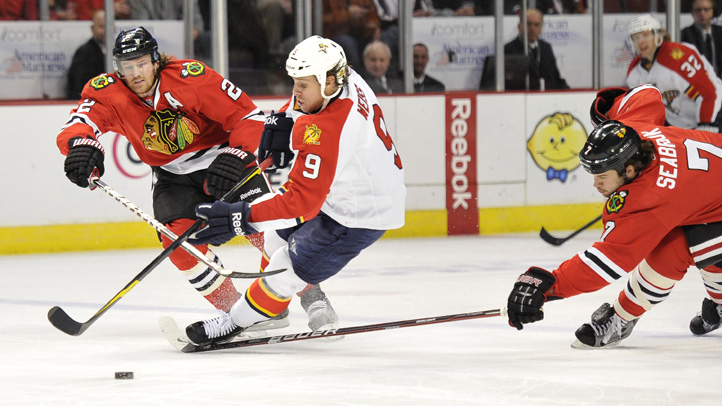 You've probably read about how the Hawks have adjusted their penalty kill, and the past two games have got some glittering results (though one of those was against the Rangers whose power play is a toddler trying to make mom breakfast at this point). But you might not know the nuts and bolts of it. And what you probably really want to know is why it took so long to adjust. I can only answer the former.
For most of the season, the Hawks were employing a Triangle +1 set up on the kill. This means that the two D were on either side of their net down low, with one of the forwards in the middle of the ice higher up, forming the triangle. The other forward was above him, sort of floating around the blue line. Think of the back of a dollar bill, with the pyramid that has the eye above it. The idea of this, I guess, is that it blocks out the high slot as there is a forward lower than normal. The top forward is supposed to aggresively cover one point, and when the play switches points, both forward yo-yo from the tip of the triangle.
The problem with this is that d-to-d pass for the team on the power play was always open. With some movement, lanes for shots and passes are easily openened if the forward closing on him doesn't have his angle perfect. Plus, as he's moving forward, he can be easily walked around. Once he is, the cross-ice pass becomes open, or the shot to the net is because there just aren't enough bodies in the way.
What the Hawks have done these past two games is switch to a much more traditional box. It's just as it sounds, d-men low and forwards high, forming a square. This requires much less movement from the forwards, as they don't have to close on a pointman because they're already there, and it makes that pass much harder or not available at all. When the PP can't continually switch sides on you, lanes don't open up as easily. This forces them to go from point to the boards, which allows time for everyone to close off the high-slot which you would think would be open in a box formation.
There have been other changes as well. The Hawks have been far more aggressive at their blue line, trying to deny entry at all. Teams will eventually counter not being able to carry pucks in by dumping it behind the Hawks, and working to get it back which the Hawks struggle with. But at least when they set up now, the Hawks have made it far more difficult.