I won't lie to you, I think I have the greatest job in the world. I get paid to watch hockey and say what I think about it, pretty unfiltered. I don't even have to spend time in Edmonton in February like other people paid to write about the sport do. It's a sweet gig.
And the Hawks have made me hate it for a lot of this season.
It's one thing to be bad. Look, the Cubs are bad but that's to be expected. They have no talent. I don't get angry when they lose because that's just something they're going to do. But the Hawks do have talent, and the only reason they're losing more than they should is because they're top end talent needs a plate glass inserted over their stomach so they can see where they're going when their head is consistently up their behind. That's if they can even be bothered.
Once again, last night the Hawks just decided to take most of the game off during a 4-2 loss to Minnesota. It was truly infuriating because the first period was about as good as we've seen them play. Even after giving up a dunderheaded goal with more magic being wafted by Duncan Keith and Brent Seabrook, the Hawks mauled the Wild. They pinned them in their own zone for minutes at a time, they hassled what is a young and subpar defensive unit into turnover after turnover, and they were first to every loose puck. They could have been up 4 or 5-1 when it was over, but were only up 2-1. Still, that should have been platform to build to an easy win.
The Hawks think the easy wins will just come to them.
Out went the hustle and determination to chase things down. In came attempts at fancy plays at the blue line that had no hope of working. Out went the rush up the ice and in came lollygagging around the neutral zone. Topped off with more buffoonery from the Hawks top pair, and some pretty hilariously lazy backchecking from Patrick Sharp, and poof went the lead.
While the easy story to write these days is the Hawks are up against it because of what they lost, the truth is that they are up against it because the players that were kept have snuffed it. Duncan Keith is -22 in Hawks losses this year, and they are intertwined. He's given his disease to Brent Seabrook, who's a -5 his last six games.
Patrick Kane was dominant in the first period last night, and then invisible for the next forty. This is not the first time this has happened, which raises questions about his conditioning. Marian Hossa was sick and unable to contribute, which he hasn't done when he's been on the ice anyway. Patrick Sharp, for all of his 26 goals, is a liability at even strength, or does his -10 tell a story I can't read?
But mostly, it's been desire that just hasn't been there, and this late in the season there simply can't be a more unacceptable excuse. The playoffs have already started for the Hawks, and if they don't realize it sharpish, they won't get any actual playoffs.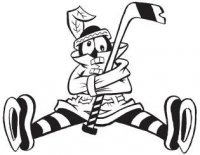 Sam Fels is the proprietor of The Committed Indian, an unofficial program for the Blackhawks. You may have seen him hocking the magazine outside the United Center at Gate 3. The program is also available for purchase online. Fels is a lifelong 'Hawks fan and he also writes for Second City Hockey .