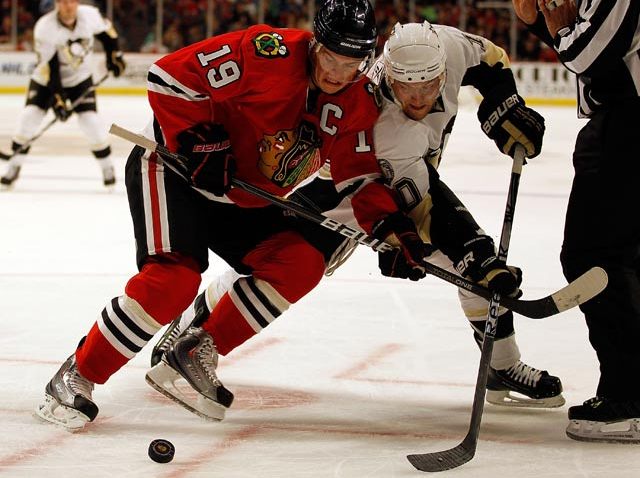 While I was quick to perform the last rites of this season after Friday's loss, most of that is based on predicting the remainder after having watched what came before. However, there is still time for the Hawks to reinvent themselves and buck those prognostications, to defy what has come before -- to put it in epic, "Lord of The Rings Speech" terms.
It could start today, would pretty much have to, with a nationally televised home game against Pittsburgh. My colleague at Second City Hockey.com, Matt McClure, points out a couple nuggets that people can grab onto if they still need to be optimistic. Two years ago, the Penguins had one less point at this stage, and they then went on to lose only three games in regulation from there on out. Strangely enough, their turnaround began on the last day of February '09, at the United Center. The symmetry would be nice to replicate. The Flyers were even worse off at this point last season, and sneaked in on the last day. So you've got that going for you, which is nice.
But that's too far off in the distance. For the Hawks to rip off any kind of streak like that, it needs to start with one. One solid, 60 minute performance. They didn't even really do that against Minnesota, but we're good enough in the last half of the game to get away with it. But from anthem to final horn, it would be heartening to see moving feet and desire without break. But in the words of Jim Morrison, "Waiting for you to hear my song..."
Under normal circumstances, this would not be the game you'd want when you're down and troubled and need a helping hand. The Penguins would be holstering the game's best player in Sidney Crosby and perhaps its most talented in Evgeni Malkin. But ah, these are not normal circumstances, as both Crosby and Malkin will not play today, and both might not for the rest of the season (Malkin for sure won't, Crosby no one has any idea about, even him). Sid the Kid is still suffering from concussion with no end in sight, and Malkin blew out a knee. To boot, the Pens are missing an additional raft of forwards, including their next best scorer in Chris Kunitz. There may be as many as 6-7 AHL call-ups skating on forward lines for the Penguins today. It is not exactly racked with snipers.
But the injury bug did not damage their defense at all, and this is one of the league's best. They are led by Norris favorite Kris Letang, who can pretty much do anything. His game looks a lot like last year's Duncan Keith, so take the time to watch and enjoy it and remember what it was like, and then cast your eyes to this moronic dog in the snow exhibit we get from Keith these days. But Pittsburgh goes 1-6 deep, with Paul Martin and Zbynek Michalek on the second pairing and star rookie Alex Goligoski on the third. Goligoski is among the Pens' leaders in points, he can really push the play.
In goal for Pittsburgh today is the equine Marc-Andre Fleury, who's been up and down recently, hopefully it's a down day. When he's on, he can win a game by himself. When he's off, he's a Vaudeville routine.
The Hawks start Corey Crawford, and the only other lineup change should see Ryan Johnson come off the injured list and replace useless monolith John Scott. I seem to say this every game, but if the Hawks simply match the Penguins effort level (which is pretty much always at max), then the Pens just won't have enough firepower to pull this off today. But if the Hawks continue to be awful at killing penalties, lazy about clearing their own zone, not determined to crash the other net, then the Penguins are smart and passionate enough to take advantage of all that and get a win.
Please, give me something to hold onto today.