And finally, the bottom six.
It starts with the checking line of Dave Bolland. They've been up against it this year, as they've started an abnormal amount of their shifts in their own zone against the toughest competition possible. But that's their job, and there were many games where other teams' top lines pinned them defensively for long stretches. On the other end, Bolland's recent offensive surge has saved him from serious examination. In fact, he's on course for a career high in goals and points. But that surge never came from Michael Frolik and Bryan Bickell, who have played themselves down to the 4th line when they're not in the pressbox.
Bickell became what we feared, a big winger who doesn't play big. And now that his 40-foot wrist shots aren't catching goalies by surprise, his offense went south. Frolik continues to work hard in both ends, but his poor shot selection ends too many possessions. Fro needs to get himself to better areas, because he just doesn't have that good of a shot to score from odd places.
They've been replaced by Andrew Brunette and Jimmy Hayes. Bruno had a rough start to the year, struggilng to keep up with the Mustang Hawks with his Yugo-wheels. He was getting hurt defensively, and only contributing goals on the power play. But lately, with Hayes and Bolland, he's found players to combine with him down low around the net where he does his best work. The power play has also benefitted from his net presence. Hayes has been a nice surprise, but has a lot of work yet to be done. Still wonky defensively, he also needs more strength to play the physical game he'd like to. But he's a good finisher, and you can always work with a good finisher.
On the 4th line, Jamal Mayers has been everything you'd ask of the veteran. He wins draws, gets on the body, drops the gloves when called upon. As bad as the kill has been, it hasn't been Mayers's fault.
The big surprise of midseason has been Andrew Shaw. Chicken Hawk came up at the beginning of January and immediately cut a place in Hawks fans hearts with a fearless game and a better than expected set of hands. Shaw has been everything people thought Carcillo was. Let's just hope he can keep it going for the rest of the year.
Ben Smith got a look, and played himself back to Rockford. He hasn't been a good forechecker, he didn't make anything happen, and has deservedly fell behind Shaw and Hayes on the depth chart.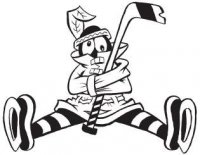 Sam Fels is the proprietor of The Committed Indian, an unofficial program for the Blackhawks. You may have seen him hocking the magazine outside the United Center at Gate 3. The program is also available for purchase online. Fels is a lifelong 'Hawks fan and he also writes for Second City Hockey .