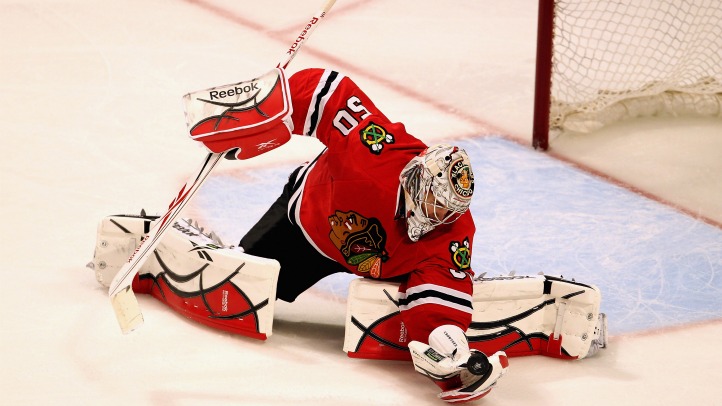 Time to sit back and review what's gone on with the team while we all kick back for a few days. Let's go from the back out and start with the goalies.
Obviously, one of the major stories and concerns on the Hawks has been the absolute thud Corey Crawford has put forth. While he started the year strong, it all went to pot right about the time the calendar flipped to November. And it's not just one aspect of his game, say a weak glove or bad movement. Though those two have been part of it. But the rebound control, the angles, and just mental lapses have cost Crow a lot of bad goals and shakey performances. It's the leading the reason that the penalty kill has kept the Hawks from getting their head above water in terms of the division.
And now it's pretty clear that it's affecting his emotional psyche. The frustration was clear on Tuesday against Nashville. Crawford has never busted his stick over his net like that before.
What's a little frightening for Hawks fans is that the only answer is for Crawford to find his game. There are just enough holes on the team that Stan Bowman is going to have to address through trade that finding enough assets to swap out with a goalie added to the wish list is going to be cumbersome. Ray Emery is not a long term answer. Crawford just has to find success again.
How does he do that? It's hard to say, only goaltending experts can talk about his game and tendencies with any level of knowledge. Crawford just needs to find confidence again. Maybe he should tone down the aggressiveness a bit, he's a big guy and doesn't need to challenge shooters as much as he has. That would help with his movement and then his rebound control could back.
As for the backup, Ray Emery, he's been pretty much everything you ask of a backup. Other than the Edmonton disaster, he's kept his team in every game that he's been in and when the starter dipped was able to step in and guide the ship for a couple weeks. That's what you want out of your #2. But that's all Emery has proven to be, a #2. If the Hawks have to turn to him when the playoffs roll around, no one is going to feel comfortable.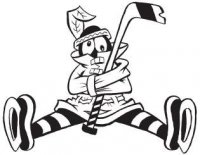 Sam Fels is the proprietor of The Committed Indian, an unofficial program for the Blackhawks. You may have seen him hocking the magazine outside the United Center at Gate 3. The program is also available for purchase online. Fels is a lifelong 'Hawks fan and he also writes for Second City Hockey .