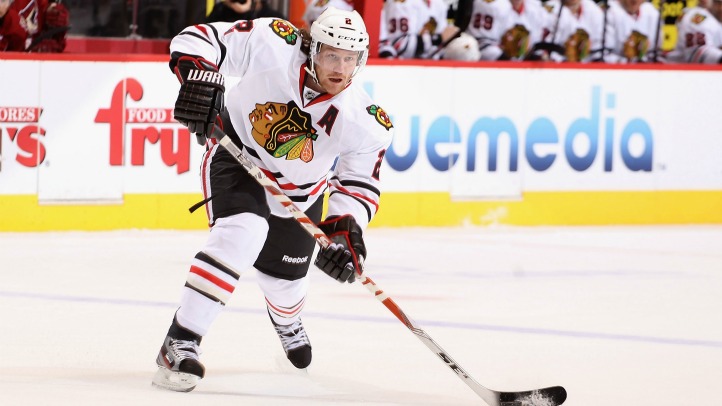 It's a bit hard to get a handle on the Hawks defensemen, because it seems like they've all been up and down all year. They've been in odd pairings, played poorly, played excellently, and everything in between.
At the top, once being reunited once the coaches stopped huffing paint and keeping them apart, Duncan Keith and Brent Seabrook have returned to close to their dominating best. It was that first month, that Keith spent with Nick Leddy and Seabrook with Niklas Hjalmarsson, that they were off their game. Each has missed a couple games through injury, and the other struggled without him. But they're a combined +27, and almost all of that has been done since they paired up again.
The second pairing is much more muddled. While Nick Leddy has looked great going forward when there's space he can exploit with his speed, he's still having major problems in his own zone. When teams are dedicated to harrassing him physicall deep in his own zone, Leddy gets the yips. He can get physically overpowerd, and that's why he's been such a liability on the penalty kill, which for some reason Joel Quenneville keeps tossing him out on. As for his partner, Hjalmarsson, he's pretty much been a mess all season. Not engaging physically, Hawks fans are having nightmares that involve watching Hammer watch opponents set up a county fair in front of the crease. Hammer has never provided anything offensively, nor has he been asked to. So he can't make up for his defensive ineptness on the other end. He's been turnover prone, which has made Leddy more shaky. This is something that the Hawks are going to have to figure out, even more so than the goalies.
As for the rest, Steve Montador took some time to try to not do everything, which led to some bad positioning and turnovers early in the year. But he's calmed his play down of late, and been steady. He's been a boon to the power play, first at a mismatched forward spot but now back to the normal point spot with his booming shot. Sean O'Donnell has struggled to keep up at times, which you would guess a 41-year old might. But his play has also leveled off with Montador.
Sami Lepisto doesn't exist as far as we can tell, and John Scott isn't worth my time to write about.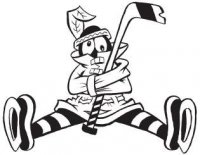 Sam Fels is the proprietor of The Committed Indian, an unofficial program for the Blackhawks. You may have seen him hocking the magazine outside the United Center at Gate 3. The program is also available for purchase online. Fels is a lifelong 'Hawks fan and he also writes for Second City Hockey .