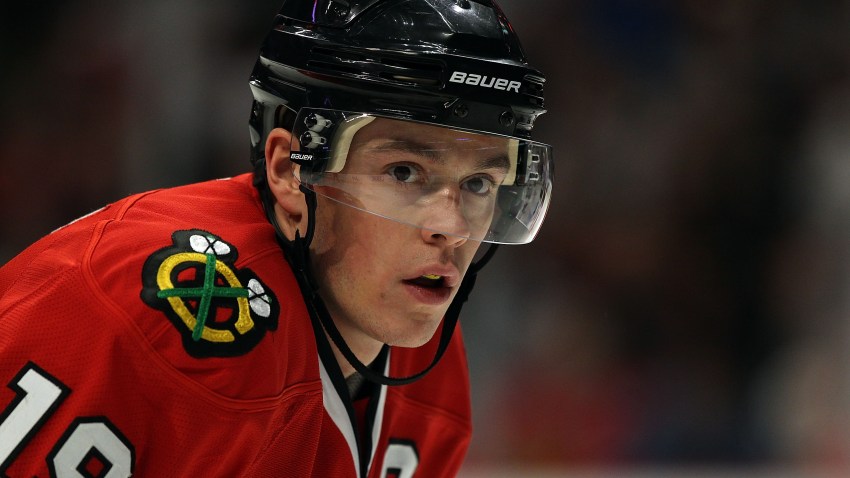 Patrick Sharp - The scoring numbers sure do look gaudy. On his way to a career-high in goals, Sharpie has bailed the Hawks out a lot, especially on the power play. But his -10 also tells its own story. The Shooter has too often resorted to reaching and standing still in his own zone instead of the dogged pursuit of the puck we've seen in past seasons. His insistence on gunning up the ice to score when even the sleightest hint of possession being gained in the defensive zone left his blue liners stranded a lot. According to some metrics we use in the Indian, Sharpie is the Hawks worst even-strength player, as they are a goal and a half worse off for every 60 minutes he spends on the ice 6-on-5. The goals are nice, but the Hawks need the total package.
Grade: B
Jack Skille - Oh Jack, we root for you so hard. Skillz skates his ass off every shift, but a lot of the time it's a Rorschach pattern and doesn't make any sense. He's got a nice shot, but too often it misses the net. His defensive awareness is meh. He'll show a great game, and then disappear for three. His wheels are great, but they don't get him to the right areas enough. Maybe he'd be helped by being deployed on the left side instead of right, where his body would be open and he'd have more options to shoot at. But that won't happen any time soon, and for now he's firmly on the trade block and leaves us wanting more.
Grade: C+
Viktor Stalberg - Pretty much the same story as above. Lighting quick skating accompanied by not enough desire to get dirty with this big frame, Stalberg seems to have earned the "soft" label that followed him here from Toronto. Showed promise when skating on the top line in November, where he netted most of his goals. But he didn't create enough space for Daydeam Nation (Toews and Kane) and was too complacent to float on the outside instead of getting to the net. Shows some chemistry with Skille but neither get enough ice time to do enough with it, not that they've always warranted it. Taken up residence in Coach Q's doghouse, any defensive mistake, which there've been plenty of, has been punished with a benching. So much promise, so many tools, so little resutls.
Grade: C
Jonathan Toews - Kind of the same story as Kane. The numbers look good, and Toews has been more noticeable more often than his partner in crime, especially after Kane got hurt. But we're accustomed to Toews being a beast every game, constantly winning the puck in the offensive zone and starting trouble. And that hasn't happened much this season. Been far streakier than in the past. Says all the right things to the press after, so his own performance gets ignored. While not bad, he can be better more often. Still the only guy the Hawks can count on to win a draw though.
Grade: B/B-