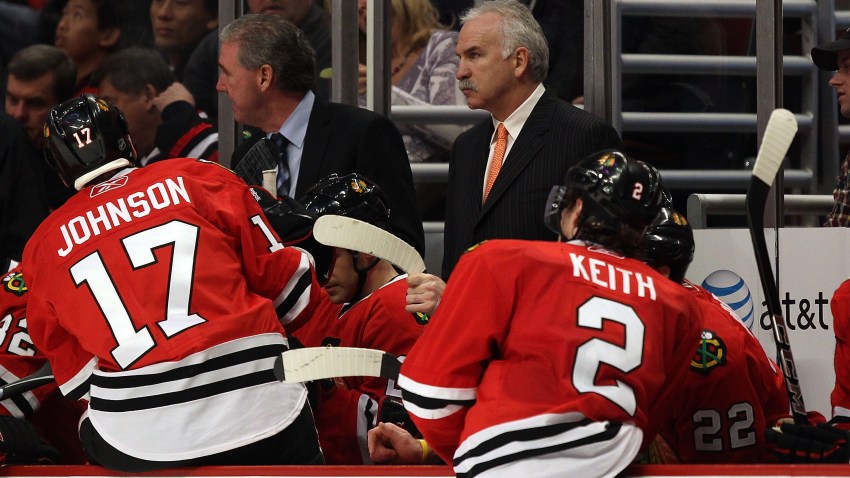 Jordan Hendry - It took far too long for him to get his chance after the torture that was Nick Boynton, and when he finally did, it was his round peg (what?) in the square hole of forward. He did what he could there, skating hard and trying to create some energy, but clearly wasn't comfortable. When finally restored to his natural backline position, and paired with Nick Leddy, Hendry has done what he does best: just be a solid 3rd pairing guy who doesn't do anything imaginative or risky. Provided shelter to the overmatched Leddy and allowed him to get forward. Nothing special, but nothing detrimental here either.
Grade: B
Duncan Keith - The biggest reason the Hawks find themselves in this disappointing position. Maybe it's the pressure of being the Hawk with the biggest paycheck, maybe the weight of a Norris Trophy, or maybe it was last year being a slight abberation, but Keith has been flirting with awful most of the year. Panicky, stupid and at other times lazy in his own zone, Keith has treated us to a Vegas buffet of rushed clearances that don't get out of the zone, Bermuda Triangle passes that defy explanation, and all the wllingness of an unconscious sloth to fight in front of his own net. The Hawks abysmal penalty killing falls most heavily on Keith's shoulders. It can't be any clearer that Keithers is a -22 in Hawks regulation losses, and +18 when they get a point. As Keith goes, so go the Hawks. Right now it isn't too far from the toilet.
Grade: D+
Nick Leddy - Leddy's been put in an impossible position by his GM and his coach. He has all of 30 games above college level, and he only had 30 games there. If the brass thought his development was being stunted at the U. of Minnesota, he really should have been sent to juniors where he could get top pairing minutes amongst kids his own age. Clearly not ready to deal with an NHL forecheck, and nor should he be, he's doing the best he can, showing brief glimpses of what could be a pretty attacking d-man one day. In trouble not of his own making.
Grade: Incomplete
Brent Seabrook - Excellent to start the year, and in fact was separated from the disease that is Duncan Keith this season to accentuate his play. Been physical force when needed, and vaulted himself to the first power play unit with some solid passing and being able to get a shot through. Has taken a step back recently as he's been infected by his partner's idiocy, but still the Hawks would be lost without him. Perhaps the impending contract squabble is getting to him, or he's just tired of carrying Keith all over the place, but the break couldn't be better timed for Seabiscuit.
Grade: B